Commodities Are Down...Hooray?
Lower prices are welcome, but a global slowdown is a big part of the change, and that's no reason to cheer
By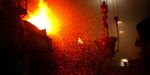 These days, even the good news is bad news. The good news, which helped the stock market to its biggest gain in four months on Aug. 5, is that commodity prices, led by oil, have been plunging. The bad news is why commodities have fallen: One big factor is a slowdown in global economic growth, with prospects for worse ahead.
On the bright side, lower commodity prices, all else being equal, help hold down inflation and ease strains on consumers and commodity-buying businesses. Prices of oil, copper, aluminum, corn, and soybeans began dropping sharply earlier this summer, joining zinc, tin, nickel, and platinum, which began falling earlier. Crude oil fell 18% from its July 3 peak of $145 a barrel through Aug. 6, when it closed at $118.60 on the New York Mercantile Exchange. Nickel is down 47% from its 2008 high; orange juice, down 33%; platinum, down 30%; soybeans, down 26%. Overall, the S&P GSCI—a global commodity index created by Standard & Poor's (MHP) and Goldman Sachs Group (GS)—is off 19% since early July.
Trouble is, the welcome price drop owes a lot to unwelcome world economic weakness. Traders are bailing out of commodities in part because of evidence of weakening demand and in part because they predict demand will soften in the months ahead as the economic slump and credit crunch that began in the U.S. a year ago spread abroad. On Aug. 5, JPMorgan Chase (JPM) said "global GDP has decelerated markedly since last year and is currently expanding at a tepid annualized pace of 1.3%." The International Monetary Fund on July 17 predicted global growth of 3% in the fourth quarter of 2008 compared with a year earlier, down from 5% annual growth in all of 2007. "The market is starting to catch up to a demand pullback," says John Kingston, global oil director for Platts, an information provider owned by The McGraw-Hill Companies (MHP).
Doom and Gloom
Slowing auto production has cut demand for palladium for catalytic converters. Jiangxi Copper told Bloomberg Financial Markets on Aug. 5 that Chinese makers of refrigerators and air conditioners cut copper purchases because of slowing demand. And high prices have encouraged increased production of food and some metals, swelling inventories. Moscow-based Norilsk Nickel says its first-half nickel production was up 14% from a year earlier.
Some speculators are bailing because they've decided the party's over for now, while others fear punitive regulations in the U.S., analysts say. "The sense of doom and gloom overhanging the commodity markets at the moment is palpable," John Reade, a bullish analyst at UBS (UBS) in London, wrote in an Aug. 5 recent report.
Will it last? Environmentalists cheer the commodity plunge as evidence of "demand destruction"—as when utilities permanently quit using oil to generate electricity after its price spiked in the 1970s. But analyst Kevin Norrish of Barclays Capital in London thinks demand will snap back soon despite the sluggish economy, partly because of today's lower prices. Indeed, MasterCard Advisors (MA) estimated on Aug. 5 that the volume of gasoline purchased in the U.S. had risen for the previous four weeks in a row as prices fell. That's certainly not good news.
Before it's here, it's on the Bloomberg Terminal.
LEARN MORE