Stocks: Can the Market Predict a President?
The S&P 500's record in the three months before the Presidential election can often predict the next party in the White House
Sam Stovall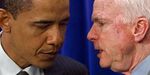 Should John McCain and Barack Obama be keeping a close eye on the stock market? Recently, a friend told me that the price performance of the Standard & Poor's 500-stock index during the three calendar months leading up to the U.S. Presidential election was a good predictor of whether the President or his party would be re-elected or replaced. Basically, the idea is that a positive performance by the index signals a positive result for the incumbent or the party in power; a negative performance by the "500" means the opposite.