Is Europe Leading or Losing on CO2 Emissions?
The continent's bureaucrats hope their counterparts in China, India, and the U.S. will embrace carbon regulation next year in Copenhagen
Mark Scott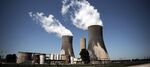 The bureaucrats that run the European Union's day-to-day business aren't known for taking risks. Yet back in 2005, when they devised the EU Greenhouse Gas Emission Trading Scheme (EU ETS), these pencil pushers gambled that a cap-and-trade scheme would help cut the EU's carbon dioxide emissions. Now, three years on, the environmental benefits from the EU ETS remain unclear: The continent's CO2 output actually rose 1.1% last year.
Moreover, its impact on the European economy is far from clear. Optimists think Europe's early adoption of a cap-and-trade CO2 market will give local companies a competitive advantage when other regions of the world finally start trading carbon. Under the EU ETS, companies are given a set number of carbon allowances (the "cap" in cap and trade), which then can be bought and sold on the open market. In theory, this provides a financial incentive for firms to become more energy efficient, giving European businesses a head start in cutting overhead just as fuel costs begin to hit company profits.
This goal will be put to the test ahead of next year's U.N.-backed meeting in Copenhagen to negotiate a global agreement on climate change. For Europeans, the summit holds particular importance. The continent has banked its financial future—and moral authority—on creating a low-carbon economy. This gamble's efficacy now depends on the likes of China, India, and the U.S. deciding whether to embrace carbon trading. "Copenhagen will play a big part in showing that Europe's creation of a cap-and-trade carbon market will pay off," says Mark Spelman, global head of strategy at consultancy Accenture (ACN).
Steeper Energy Prices Loom
If, however, a global agreement for CO2 isn't reached, many energy-intensive industries reckon their European businesses will be the only one to shoulder the higher costs needed to cut emissions. The extra financial burden eventually could send European jobs overseas and increase costs there.
A global agreement on carbon is even more urgent for European companies after Brussels outlined stricter CO2 cuts (BusinessWeek.com, 1/23/08). Based on unilateral carbon reductions of 20% by 2020 (rising to 30% if other countries agree to similar reductions), the cap-and-trade agreement is expected to double the cost of offsetting a metric ton of carbon, to $63 by the end of the next decade. That equates to a roughly $15-per-megawatt-hour increase in electricity prices as energy firms pass on extra CO2 costs to end-users, according to Britain's Carbon Trust, a government-backed research-and-advisory group.
With the tougher cuts coming into force from 2013 onwards, companies have little choice other than to increase energy efficiency, according to Karsten Neuhoff, a senior research associate at the University of Cambridge. European utilities already have invested billions of dollars in wind power and solar energy to move away from fossil fuels. Rising energy prices also have led steelmakers and oil refiners to invest in more efficient technologies such as less-intensive smelting processes. "High carbon costs aren't a concern for European industry," says Neuhoff. "They provide a great business opportunity for those willing to take it."
A Competitive Disadvantage?
This eco-friendly investment could well pay dividends for Europe if and when a worldwide cap-and-trade CO2 agreement is reached. Most companies trading under the EU ETS have global operations, says Cambridge's Neuhoff, and these benefit from exporting energy-efficient practices internationally. "It focuses research and development to optimize practices within the EU that then can be used overseas," he says.
That argument receives short shrift from European industry groups. They fear the rising cost of CO2 will add billions of dollars to operating costs and lead thousands of workers to lose their jobs. According to the German Cement Industry Federation, their members' costs will rise $1.4 billion (BusinessWeek.com, 7/18/08) due to expenses linked to the EU ETS. That represents almost half of the sector's current annual revenues and could give foreign rivals an economic edge.
Others warn that future investment could grind to a halt if the cost to offset carbon becomes prohibitively expensive. Tim Warham, London-based assistant director in Deloitte's economics consulting team, says firms in energy-intensive sectors such as cement and chemical processing may wind down European plants in favor of facilities in regions that don't charge for CO2 emissions. "If there's a difference in overall [operating] costs," he says, "Europe could be handing a competitive advantage to others."
This debate will gather speed ahead of next year's global climate change conference in Copenhagen, whose outcome will be critical for the EU. Having created a cap-and-trade CO2 market, European business has jumped ahead of rivals in adapting to the low-carbon economy. The question is whether others will follow, or leave the continent's companies to meet spiraling carbon costs on their own.