Two Public Pension Funds' Virtuous Mistake
CalPERS and CalSTRS do-good investment strategy has cost California retirees billions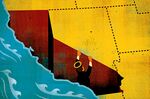 Many big public pensions funds have used their investment clout to push a social agenda. But California's largest funds are learning that being virtuous doesn't always pay.
Eight years ago, then-state treasurer Philip Angelides launched his "Double Bottom Line" initiative, espousing a philosophy of profits and social reform. As part of the plan, the $239 billion California Public Employees' Retirement System (CalPERS) dropped investments in countries that lacked a free press, labor unions, and other hallmarks of democracy. CalPERS and the $162 billion California State Teachers' Retirement System (CalSTRS) also dumped tobacco stocks and plowed money into businesses and real estate that would benefit the local economy.
The strategy has been a drag on the returns of the funds, which overall have still trumped the S&P 500-stock index over the past five years. CalPERS, the largest pension fund in the U.S., left $400 million on the table by screening out investments in China, Colombia, and other countries. CalSTRS revealed that its cigarette ban cost it $1 billion in lost gains. With California home prices down nearly 40% in the past year and commercial properties off 15% , the funds' real estate bet could fizzle.
Adding to the cloud surrounding the strategy, its architect, Angelides, has been criticized for taking campaign contributions from money managers who did business with the funds—some of whom benefited from the socially responsible shift. In an e-mail response, Angelides, who has said he never allowed donations to influence investment decisions, notes that during his tenure, the funds posted record results and boosted assets. Says a CalPERS spokeswoman: "The bottom line is our performance, which is 11.4% annually over the past five years." CalSTRS.
TOBACCO TURNABOUT
The plan was controversial from the start. In 2000, CalPERS approved a method for excluding countries that allowed certain social ills to fester. Angered, officials from the Philippines, one country dropped, bused local immigrants to CalPERS' Sacramento headquarters to protest. The fund's managers reinstated the country after it turned out they relied on old data. A 2007 CalPERS report found its emerging-market investments underperformed an index without the same limitations by 2.6% a year. The fund repealed the screening policy last year.
The funds may reverse their stance on tobacco as well. Besides worrying about public health, Angelides had argued that the industry could go bankrupt in the face of legal and regulatory battles. But with cigarette shares soaring since 2000, CalSTRS reported that they "could no longer justify" avoiding the stocks. The board is expected to review the policy in September.
The pensions also piled into California real estate. CalPERS has 25% of its $20 billion in real estate holdings there, and CalSTRS has 19%. Real estate overall has performed well, with CalPERS investments up 8% over the past year and CalSTRS 12%. (Neither breaks out California.)
But real estate returns, which are dependent on appraisals, aren't updated as frequently as stocks and bonds. There are signs of weakness. Cleveland developer Forest City Enterprises (FCE) reported an $8.2 million hit on the Mercury, a Los Angeles condominium in which CalPERS has a stake. Says Joel Kotkin, a fellow at Chapman University: "What you're seeing is good intentions going bad."
Before it's here, it's on the Bloomberg Terminal.
LEARN MORE