Anatomy of a Media Mess
A time line of Tribune's troubles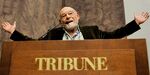 DECEMBER 2004
Tribune sales peak at $5.6 billion, four years after the $8.3 billion takeover of Time Mirror. The stock ends the year at 42, down from a high of 61 in 1999.
APRIL 2007
Sam Zell agrees to buy Tribune for $8.5 billion, or 34 a share, a 6% premium. He says he's not planning job cuts or a breakup: "Eliminating this or...that isn't going to make this work."
DECEMBER 2007
Zell completes the deal, personally investing only $315 million. He takes over as CEO, vowing to sell the Chicago Cubs to ease Tribune's debt burden.
FEBRUARY 2008
Tribune announces it will eliminate 500 jobs and explores selling the Wrigley Field separately from the Cubs.
MAY 2008
Faced with a rapid decline in cash flow, Zell agrees to sell Newsday to Cablevision for $650 million.
JUNE 2008
Tribune solicits bids for its baseball assets, aiming for $1 billion. Zell also puts the Tribune's Chicago headquarters and the Los Angeles Times building up for sale.
JULY 2008
As Tribune slashes an additional 425 jobs, Chicago Tribune Editor Ann Marie Lipinski and Los Angeles Times Publisher David Hiller leave.
DECEMBER 2008
Tribune must make a debt payment of $650 million, with an additional $750 million coming due by June 2009.
Before it's here, it's on the Bloomberg Terminal.
LEARN MORE