The Nano: Tata's Costly Promise
Rising expenses are squeezing the profitability of the Indian automaker's supercheap car, whose price was originally set at $2,500
by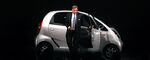 On a recent weekend in Delhi, Rajesh Malhotra was shopping in the city's crowded Bhogal market with his two children, ages 6 and 12, who were hanging on to his one-year-old, $1,400 motorcycle. Like many Indians, Malhotra, 42, can't afford the $4,300 price tag of the Maruti Suzuki 800, the least expensive car in the country. That's why he had been hoping to buy a new Nano, the revolutionary $2,500 car that India's Tata Motors (TTM) plans to launch this fall.
Now, Malhotra is having second thoughts. He's done the math and realized that once taxes and insurance costs are added, the price of the entry-level Nano rises to just over $3,000. For an extra $500, he says, he could buy a decent used car with a more powerful engine and air conditioning, which the Nano won't have. "My wife's been forcing us to save for the Nano," he says. "But it might be best to wait and see what others think first."
Yet if winning over car buyers like Malhotra is key to the Nano's ultimate success, selling $2,500 cars and still making a profit is looking like a tough proposition, at least in the near term. Tata is finding that bold price promises can be expensive. Like all automakers, the company is being hurt by rising prices for steel and other raw materials. With the Nano's October launch now just a few months away, investors fear that eking out a profit on the Nano—something promised by Tata Chairman Ratan Tata back in January—will be far harder than earlier hoped.
Big Change of Sentiment
The problems come at tricky time for Tata. Analysts project the carmaker will report on July 30 a net earnings decline of around 30% for the three months ended in June because of rising costs. That would mark the biggest quarterly drop in five years. This year, Tata Motors' stock, also hampered by its $2.3 billion acquisition of the Land Rover and Jaguar brands from Ford, (F), is down 42%, compared with 30% for the Bombay Stock Exchange's benchmark Sensex index.
That's a big change of sentiment in a short space of time. Back in January, when Tata first unveiled the Nano at the Delhi auto show, this would-be king of econo-boxes grabbed more attention than anything shown at the North America International Auto Show in Detroit held the same month. The acclaim for Tata's "People's Car" came despite the fact that no one had driven the Nano (BusinessWeek.com, 2/14/08) and it wouldn't be available for almost another year.
No matter. The Nano, a 623cc-engine compact that will get 50 mpg, instantly won kudos as a showcase of frugal Indian engineering. It sent shock waves through the auto world as carmakers reassessed how cheaply they could make small vehicles. For Ratan Tata, the car symbolized something much grander than just another product. "I hope it will be seen as the car which changes the manner in which people in rural and semi-urban India will travel," he said at the unveiling.
Rising Materials Costs
One problem is that Tata's cost concerns with the Nano are more serious than those faced by other automakers. First, at a time when global steel prices are touching record highs, prices in India are rising even faster. A locally procured ton of hot rolled coil, an industry benchmark, has surged 42%, to $675, since January when Tata unveiled the Nano.
Then there's the Nano itself. To keep costs down, Tata has done away with most of the high-tech gadgetry found in many modern autos. That also means that raw materials like steel, rubber, and other commodities account for a bigger chunk of the Nano's total price (BusinessWeek.com, May 9, 2008) than on other cars.
Consulting group Global Insight estimates that raw materials account for about 7%, or around $1,600, of the cost of the average U.S. car, compared with $800 five years ago. For a $2,500 car like the Nano, which Tata began developing in 2003, raw materials costs have likely increased from around 13% to 23% of its pretax price over the same period. "The Nano is a magnificent accomplishment from an engineering point of view, but they're launching a low-cost car in what's become a high-cost environment," says Tim Armstrong, director, Asia & Middle East/Africa at Global Insight. Armstrong adds that he has "some questions over its economic viability in this new, harder environment."
Pessimism about Profits
Rising input prices aren't the only factor increasing costs. Tata admits that its Nano plant in Singur, East Bengal, is over budget after the site flooded during the rainy season. Speaking on June 28, Ravi Kant, Tata Motors' managing director, told reporters the company had invested $470 million in the project, 18% more than it had budgeted in January and double the amount stated when the project was unveiled in 2006.
Meanwhile, Tata faces delays in building the plant, which was the subject of protests by local villagers angry at the acquisition of farmland by the government for the project. The company could end up having to transfer production to other factories. That would push prices up, since other facilities like Tata's Pune plant, which builds the more expensive Indica small car, aren't designed to build Nanos. Tata declines to comment, but said it expects the first batch of cars to be ready by Sept. 15.
No surprise, then, that analysts are wondering how Tata can earn a profit on the Nano. One recent poll of Indian auto analysts estimated that Tata would need to produce 390,000 Nanos a year to make a profit, 56% more than its startup capacity of 250,000 a year. Others are even more pessimistic. "Until production volumes hit 500,000 units, it's difficult to be optimistic about any profits," says Ashvin Chotai, an independent automotive consultant. Chotai adds, however, that Tata will benefit from applying knowledge of making Nano parts cheaply to other models.
Questions about the $2,500 Price Tag
Other automakers will be watching events closely. Hyundai in July said it had scrapped plans for a cheap car for China that was to be priced between $5,000 and $6,000, due to rising costs. However, it is still promising to make a $3,500 vehicle in India. In May, Nissan (NSANY), Renault, and Bajaj Auto, an Indian motorbike and rickshaw manufacturer, will form a joint venture to develop and produce a car code-named ULC in India, with a wholesale price range starting at $2,500 in 2011.
That would be a huge achievement given that Nissan-Renault chief Carlos Ghosn recently commented that automakers will have no choice but to pass on rising costs to consumers. "With the lead times involved and cost pressures coming through, it is hard to see $2,500 remaining realistic," says Andrew Phillips, an analyst at KBC Securities in Tokyo who covers Nissan.
Of course, a company as innovative as Tata can be expected to come up with novel ways to cut costs. Part of the reason the Nano plans got off the ground is due to innovations such as lighter steel, a smaller engine, and longer-term sourcing agreements with parts suppliers. To save transport costs, the Nano will be sold in kits that will be distributed and serviced by entrepreneurs who will assemble it for the consumer. Tata Motors also benefits from being part of the Tata group of companies, which includes suppliers such as Tata Steel.
Boxed in by a Promise
Nevertheless, by staking its reputation on an entry-level pretax price of $2,500 (100,000 rupees in India), Tata's options to pass on the brunt of rising costs to either suppliers or customers look limited. On the supplier side, the company has admitted it will have to "absorb" some of the impact of rising costs itself.
Suppliers, already scrambling to make parts as cheaply as possible, can only be squeezed so far. "In some cases we have renegotiated the prices because we are linked with the commodities prices," said Arvind Kapur, the managing director of New Delhi-based Rico Industries, which is making engine blocks and engine heads for the Tata Nano, in addition to engine components for Honda (HM), General Motors (GM), Ford, and India market leader Maruti Suzuki. "They understand that component suppliers need to survive, and they've accommodated us."
Passing rising costs on to car buyers through higher prices looks to be more difficult. With the 100,000-rupee price not up for negotiation, one option is to sell a larger proportion of higher-specification Nanos, which come with electric windows, air conditioning, and central locking. But while luxury Nanos will be more profitable per vehicle, higher prices risk edging out many customers who until now could only afford two-wheelers. One difficulty is that as the price edges closer to the Maruti 800, the Tata becomes less of bargain. "If we passed on all costs to the consumer, it will affect demand, and if we don't it will affect margins," Ratan Tata said at Tata's shareholder meeting on July 24.
Nano Buyers Face Rising Rates
Even if Tata keeps its side of the bargain, prices to customers are still rising. For one, the Nano, while fuel-efficient compared to cars, still needs more fuel than motorbikes: Those upgrading from two wheels will feel the impact of rising fuel prices. For another, Indian interest rates are rising as the government battles to stem double-digit inflation, and Nano buyers will likely have to pay a premium.
For new-car loans, banks typically charge interest of 14% to 16% and more than 20% for motorcycles. Bankers say loans for the Nano will fall somewhere in between the two. "Look, the average Nano customer is buying a car for the first time. That's not a risk-free segment, and so the interest rates have to be higher," says one banker at large privately owned bank, who asked not to be named because of the bank's dealings with Tata.
Before it's here, it's on the Bloomberg Terminal.
LEARN MORE