Microsoft: What Web Strategy?
The software giant left some analysts wanting more detail on plans to turn around its limping online operations after failing to acquire Yahoo
Jay Greene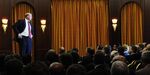 Microsoft (MSFT) has all but shut the door on the prospect of resuming talks to buy all or part of Yahoo! (YHOO). Speaking at the company's annual meeting for analysts on July 24, Chief Financial Officer Chris Liddell said a Yahoo deal at this point "essentially makes no sense."