Microsoft: What Web Strategy?
The software giant left some analysts wanting more detail on plans to turn around its limping online operations after failing to acquire Yahoo
Jay Greene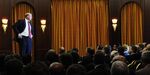 Microsoft (MSFT) has all but shut the door on the prospect of resuming talks to buy all or part of Yahoo! (YHOO). Speaking at the company's annual meeting for analysts on July 24, Chief Financial Officer Chris Liddell said a Yahoo deal at this point "essentially makes no sense."
If Yahoo is no longer the remedy for Microsoft's ailing online operations, what is? The software giant spent part of the day trying to persuade analysts that it's got something better in mind. Yet with Wall Street growing increasingly impatient to see results from its online operations, Microsoft gave only a glimpse into what to expect in terms of ongoing spending and returns. Chief Executive Steve Ballmer said the company plans to continue spending 5% to 10% of operating income, a modest amount relative to the potential returns, he argued. And those returns could hit 20% to 40% if Microsoft is successful, Liddell said, though he didn't disclose a time frame for when that might happen.
Microsoft also pulled back the curtain on plans to provide Web search tools to users of Facebook, and to place search-related ads on pages of the social network by the end of 2008. The Redmond (Wash.) company last year paid $240 million for a tiny, 1.6% stake in Facebook, a swiftly growing Web site that boasts some 90 million registered users. Deepening ties with Facebook is probably a smart move.
The Google Gap Widens
Still, some Wall Street analysts came away from the meeting wishing Microsoft had said more. "My expectations were low and they exceeded my expectations, but they didn't give me everything I wanted," Sanford C. Bernstein (AB) analyst Charles Di Bona said. "It would have been nice to have been more concrete about what was game-changing."
That's important because now Microsoft is losing the game, despite spending billions over more than a decade only to rack up huge losses. The operating loss in Microsoft's online-services business more than doubled, to $1.23 billion, in fiscal 2008, from $617 million a year earlier. Meantime, Google (GOOG) has taken the lion's share of revenue in the business and continues to lengthen its lead.
Ballmer stressed that the market is still young. "This is a transformation which is in its infancy," Ballmer said. "I know it may feel some days like it's all over. The story has been written. But, if you look at it today, the bulk of advertising and marketing in the world, the lion's share, is offline, not online."
Yahoo: "Declining Asset"
The company surprised investors a week earlier when it announced $300 million in new spending (BusinessWeek.com, 7/18/08) on its online business. Ballmer said Microsoft needs to spend in order to position itself to succeed. "We're going to have to ante up in a significant way to even be in this game," he said.
Another bombshell came on July 23, when Microsoft said Kevin Johnson, the executive responsible for the online division and one of the biggest proponents of a Yahoo deal, is leaving (BusinessWeek.com, 7/24/08).
The company plans to reorganize the division run by Johnson and split the online operations from those that handle Microsoft's flagship operating system, Windows.
Much of Microsoft's new spending will go for research and development to further improve its Web search engine and advertising technology. Microsoft will boost its marketing efforts to draw users to its Net offerings. And it will plow more money into expensive infrastructure technology to offer ever more services online.
Little attention, it seems, will be devoted to pursuing Yahoo. Liddell called Yahoo a "declining asset" that's no longer worth the $33 a share in cash and stock that Microsoft was once willing to pay. And while Microsoft has been interested in buying just Yahoo's Web search business, those operations too are slipping in the behemoth's eyes. "About the time that Yahoo thinks it makes sense to agree to our search deal is about the time it makes no sense to us," Liddell said. "But we'll see."
Ballmer was only a little less definitive. The companies aren't talking right now, he said. "Does that mean nobody will ever talk with anybody again? I suspect the answer to that is no," Ballmer said.
A Brighter Vista?
Company executives also discussed the challenges of Windows Vista. The operating system, launched in January 2007, has been panned by many reviewers for not working well with other software applications and hardware devices. At the same time, Apple's (AAPL) Mac computers have gained share, in part through a clever marketing campaign that highlights Vista's many problems. Microsoft Senior Vice-President Bill Veghte acknowledged that some consumers "are predisposed to think about it in a negative way."
But Microsoft believes that's an opportunity as well. The company has sold 180 million copies of the operating system. And a survey it commissioned found that 89% of users are satisfied or very satisfied with Vista and that 83% would recommend it to others. "That's our opportunity: perception versus reality," Veghte said. "That's a conversation that we've got to go have with our customers." Microsoft will soon launch a new advertising campaign aimed at convincing consumers that Vista is a lot better than they might think.
And now that it's walking away from Yahoo, Microsoft needs to persuade the public that it's got a viable online strategy, too.
Before it's here, it's on the Bloomberg Terminal.
LEARN MORE