Bomb Attacks Aimed at India's High-Tech Heart?
The seven blasts in Bangalore don't seem to have been aimed at its tech infrastructure. But such an attack would shake global markets
Nandini Lakshman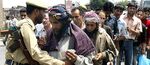 A little after lunch on July 25, the city of Bangalore, India's tech capital, was rocked by seven low-intensity bomb blasts. Police sources in Bangalore said that two people (including a woman at a bus stop) were killed and five injured in some of the busiest parts of the city, including the Hosaguddahalli and Madiwala districts.
The detonations raise an obvious question: Are terrorists, homegrown or foreign, launching an attack on India's high-tech infrastructure? The fallout from an effective, widespread assault on Bangalore would be felt on the Bombay stock market and in the offices of companies worldwide that outsource vital functions to India. Some of India's top tech companies, such as Infosys Technologies (INFY) and Wipro (WIT), are located in Bangalore. IBM (IBM), Cisco (CSCO), Sun Microsystems (JAVA), and Accenture (ACN) have their main India offices in the city, too.
Today's explosions left Bangalore's tech infrastructure intact. There were initial concerns about the safety of International Technology Park and Electronic City, the two major IT hubs. But police said the blasts were not targeted at the technology centers. Infosys issued a statement in the evening: "All our employees are safe, and there has been no impact on our business operations."
Gelatin Sticks
The police have, however, deployed more security at railway stations and IT installations in the city and such neighboring states as Andhra Pradesh. According to Bangalore's police commissioner, Shankar Bidri, the bombs were low intensity and were made of gelatin sticks. He said each bomb contained an amount of explosives equal to "one or two grenades" and appeared to have been set off by timers. No one claimed responsibility for the attacks, though Indian television speculated that Islamic groups might be involved.
This is the second time that Bangalore has been the target of a terror attack. In 2005 a gunman representing an Islamic group opened fire inside Bangalore's Indian Institute of Science, killing a professor. Since then, blasts have occurred across India. The Bangalore explosion is the third in the past year. In May, serial blasts in Jaipur, in Rajasthan, killed 60 people. In July, 2007, a bomb exploded in historic Mecca Masjid in the southern city of Hyderabad. Nearly 14 people were killed and 50 injured. Early this month, the Indian embassy in Kabul, Afghanistan's capital, was bombed when a suicide bomber rammed a car full of explosives into the compound gate.
For now, there is no sign of panic in the tech community. The attacks are in no way a threat to foreign investors, said the head of an IT company. "They could occur in any part of the world."
Before it's here, it's on the Bloomberg Terminal.
LEARN MORE