Westfield Unhurt by Lowy Tax Woes
The mall giant's investors shrug off allegations of family tax evasion as Westfield's Peter Lowy prepares for U.S. Senate testimony
Brad Howarth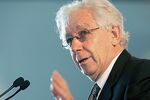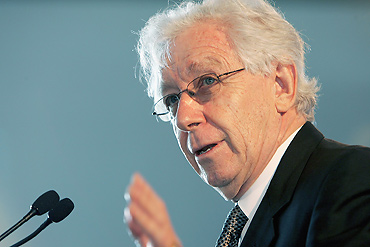 Bank accounts held in the small European principality of Liechtenstein are normally prized for their privacy and advantageous tax benefits—not as a path to being named in a U.S. Senate probe into offshore tax havens. Tell that to Peter Lowy, U.S. operations chief of Australian real estate giant Westfield Group (WDC.AX), or to his father, Frank, Australia's second-wealthiest individual and the chairman of Westfield, the world's largest owner of shopping malls. A Senate report released last week alleges both father and son used bank accounts in Liechtenstein to hide money from Uncle Sam as well as the Australian government.
The Lowy family denies any wrongdoing and will have the chance to make its case in person this week, as Peter Lowy is scheduled to appear before a Senate investigations subcommittee on July 25. (Representing the family as attorney will be Robert Bennett, Washington superlawyer who defended President Bill Clinton during the Monica Lewinsky scandal a decade ago.)
Meanwhile, the elder Lowy already has rejected the assertion in a written statement issued July 17, denying that he or his family have taken any steps to hide assets from Australian taxation authorities. "No attempt was made to save any Australian tax," Frank Lowy said in his statement. "Nor is it considered that any Australian tax was in fact saved."
Australian Investors Shrug It Off
The events that led to the allegations began unfolding in 2002 with the theft of 1,400 customer records from Liechtenstein's LGT Bank by a former employee. German tax authorities later got their hands on those records and subsequently passed them along to their counterparts in the U.S. On July 16, the chairman of the investigations subcommittee of the Senate's Committee on Homeland Security & Governmental Affairs, Senator Carl Levin (D-Mich.), accused Peter Lowy of deliberately hiding funds from the Australian Tax Office in 1998 by creating an LGT foundation and using a U.S. corporation to conceal his family's ownership of the assets. (Peter Lowy was raised in Australia but is now an American citizen based in Los Angeles.)
So far, Westfield investors have shrugged off the matter. While the affair has made headlines in Australia and the U.S., it has barely rated a blip on the radar for Australian equities managers, none of whom has revised advice as a result of the scandal. The Sydney-listed Westfield Group owns 118 malls in the U.S., Britain, Australia, and New Zealand. The portfolio includes 55 properties in the States, covering 63 million square feet of retail space, including the 1.5 million-square-foot San Francisco Center and the 874,000-square-foot open-air Westfield Century City mall in Los Angeles. The company has committed $635 million to the redevelopment of the retail precinct at New York's World Trade Center site (BusinessWeek, 12/4/06).
Holding Up Better Than Its Rival
Given the extent of its American holdings, Westfield has shown notable resilience in avoiding most of the fallout from the subprime mortgage crisis. For the 12 months ended last December, Westfield reported earnings from operations of $1.75 billion, an increase of 11.6% over the previous year. However, the total profit including property revaluations and adjustments was down from $5.44 billion to $3.35 billion.
While Westfield's stock is down 20% this year, that's in line with the Australian stock index, and the company has held up better than some of its smaller rivals. The financial meltdown has placed significant strain on competitors, including rival Australian shopping mall owner (BusinessWeek.com, 1/14/08) and manager Centro Properties (CNP.AX). That company has struggled to meet debt obligations, and on July 15 sold 29 of the 31 properties in its Centro America Fund to an undisclosed U.S. pension fund for $714 million, a 10% discount to their book value.
In a research report issued June 19, Sydney-based Deutsche Bank (DB) property analyst Matthew Bertram rated Westfield a "buy," with annual earnings per share growth projected at 6%, despite the possibility of slowing U.S. retail sales. "Westfield remains well placed in our opinion, vs. other property stocks that may struggle to provide stable earnings into [2009]," he wrote. Given its well-capitalized balance sheet and $7 billion liquidity, Westfield "has the capital, resources, and experience to take on potential acquisitions during a downturn."
Broadening Its Focus to England
Citigroup's (C) head of property research in Sydney, Quentin Velleley, attributes Westfield's success to a prudent capital management strategy that saw it issue equity before the subprime crisis hit, while keeping its debt ratio at or below 30%. "It was almost as if they were preparing themselves for something like this," Velleley says. "They don't have the refinancing problems and kept the same capital management agenda they have always had."
Westfield acquired many of its U.S. properties during the 1990s, selling those in underperforming markets while redeveloping those in more prosperous areas. It avoided purchasing properties in the past decade when they have been expensive, and actually sold eight U.S. properties to Centro for $550 million in May 2006.
More recently the company has broadened its focus to include expanding its assets in England, where it has a 50% stake in the development of the Westfield London mall in Shepherd's Bush. It also controls the Stratford City development alongside London's new Olympic precinct.
No Stranger to Intrigue
While Peter Lowy currently manages the U.S. business, Westfield's strategy is very much the legacy of his Czech-born father and the company's chairman, Frank Lowy, who opened his first mall in the Sydney suburb of Blacktown in 1959 after emigrating to Australia from Israel. But despite his integral role in the company's development, analysts credit Frank Lowy with creating a healthy succession strategy through his sons, Peter Lowy and Westfield Managing Director Steven Lowy, backed by a well-regarded management team.
Frank Lowy is no stranger to international intrigue, having been embroiled in a corruption scandal involving Israeli Prime Minister Ehud Olmert in 2007. All charges were dropped after an investigation. A strong supporter of soccer, Lowy was an instrumental figure in the creation of a new national Australian competition. He also has served as a board member of the Reserve Bank of Australia, and has received one of Australia's highest honors, a Companion to the Order of Australia. In 2003 he created an international policy think tank for foreign affairs, the Lowy Institute for International Policy, and was subsequently awarded the Woodrow Wilson Award for Corporate Citizenship in 2006.
Before it's here, it's on the Bloomberg Terminal.
LEARN MORE