What's Your Port in This Storm?
BusinessWeek asked three top financial advisers what they would do with a $1 million cash portfolio to keep it safe for a year. Safety, it turns out, is in the eye of the beholder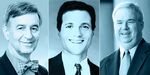 ULTRA-SAFE
Harold R. Evensky, President, Evensky & Katz Wealth Management, Coral Gables, Fla.
RECOMMENDATION
$1 million in 10 certificates of deposit (CDs) or money-market funds from Charles Schwab (SCHW) or Fidelity Investments. For the most risk-averse investors, 100% in U.S. Treasury Bills, which currently yield 2.3%.
STRATEGY
Some advisers use 10 or more banks to avoid hitting the $100,000 limit on insurance from the Federal Deposit Insurance Corp. Evensky would put all the cash in one-year CDs from Fidelity or Schwab that yield about 3.8%. If investors need cash in less than a year, he likes Schwab Value Advantage Money Fund (SWZXX) (yield: 2.24%) or Fidelity Cash Reserves (FDRXX) (yield: 2.42%).
MODERATELY SAFE
Stephen Cohn, co-president, Sage Financial Group, West Conshohocken, Pa.
RECOMMENDATION
$150,000 Vanguard Short-Term Tax-Exempt Admiral; $150,000 Vanguard Limited-Term Tax-Exempt Admiral; $150,000 Schwab Municipal Money Fund; $95,000 in Vanguard Prime Money Market; three $95,000 CDs from banks such as Schwab, Wells Fargo (WFC), or JPMorgan Chase (JPM); $85,000 in an ING Direct (ING) savings account; $85,000 in a checking account.
STRATEGY
Cohn would spread $450,000 among the Vanguard and Schwab bond funds. Each holds mostly high-rated securities and has low expenses (respective yields: 3.4%, 3.53%, and a tax-equivalent yield of 1.82%). Vanguard Prime yields 2.21%. The remaining money goes into FDIC-insured instruments. Keep CDs to $95,000, since FDIC insurance includes principal and interest. An ING Direct savings account yields 3%.
MODERATELY AGGRESSIVE
Louis P. Stanasolovich, president, Legend Financial Advisors, Pittsburgh
RECOMMENDATION
$200,000 each in Pimco Developing Local Markets (PLMIX); Prudent Bear Global Income (PSAFX); Pimco Total Return (PTTRX); Hussman Strategic Total Return (HSTRX); structured notes, which are custom-designed bonds.
STRATEGY
A mix of bond funds, currency plays, and inflation hedges aims for a portfolio yield upwards of 7%. The Hussman fund offers inflation hedges, while Prudent Bear Global Income and Pimco Local Developing Markets provide exposure to foreign debt. The most esoteric element: custom-designed bonds paired with an options contract (BW—June 30); Pimco Real Return is an alternative choice.
Before it's here, it's on the Bloomberg Terminal.
LEARN MORE