Should You Tell Clients You Work from Home?
It's a tricky issue. Carefully weighing the ethical and practical considerations can make or break your home-based business
Ricky Mcroskey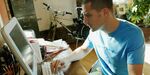 When Ilene Drexler was laid off as a corporate consultant in January 2004, she decided to launch a professional organizing business, The Organizing Wiz, out of her one-bedroom apartment on Manhattan's Upper East Side. But gaining the trust of potential customers was a challenge at first, in part because she wasn't running her solo operation out of an office building. To compensate, Drexler offered free organizing sessions to friends and family at their homes and offices. It worked. "Their testimonials bridged that credibility [gap]," says Drexler, 47, whose "low six figures" revenue increased 36% from 2006 to 2007.