Should You Tell Clients You Work from Home?
It's a tricky issue. Carefully weighing the ethical and practical considerations can make or break your home-based business
Ricky Mcroskey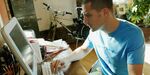 When Ilene Drexler was laid off as a corporate consultant in January 2004, she decided to launch a professional organizing business, The Organizing Wiz, out of her one-bedroom apartment on Manhattan's Upper East Side. But gaining the trust of potential customers was a challenge at first, in part because she wasn't running her solo operation out of an office building. To compensate, Drexler offered free organizing sessions to friends and family at their homes and offices. It worked. "Their testimonials bridged that credibility [gap]," says Drexler, 47, whose "low six figures" revenue increased 36% from 2006 to 2007.
Drexler's is one of roughly 16.5 million home-based businesses in the U.S. today, a segment of entrepreneurs who add more than $530 billion to the national economy each year, according to the Small Business Administration. For such operations, one perennial challenge is establishing credibility without the luxury of an office suite or a corporate mailbox. How do these business folk persuade customers that the company can be competitive when the head honcho's desk is five steps away from the head honcho's living room? Moreover, do these entrepreneurs have the responsibility to tell customers they're home-based from the beginning?
A lot depends on the industry. While Internet businesses can operate out of homes and encounter few customers who know or care that they do so, most companies in fields that rely on regular face-to-face meetings opt for commercial space because of the stigma attached to home offices, say small business consultants and home-based entrepreneurs. Claire Thompson, who launched Sterling Advertising, an ad agency in Pittsburgh, in 2007, remembers one potential client who requested an office meeting, only to find out that the company operated out of Thompson's home. When Thompson suggested meeting at a coffee shop, that was the end of their conversation. "A lot of people want a big showy office and long hallways," Thompson says. "If they're looking for that kind of company, I can't offer them that."
Don't Create Illusions
The key, say home-based entrepreneurs, is to be honest. Though owners need not proclaim that they are based at home, they do have an obligation to paint an accurate picture of their company for clients. "You don't have to shoot yourself in the foot by saying, 'By the way, I'm home-based," says Thomas White, the Hilton chairman of business ethics at Loyola Marymount University in Los Angeles. "But don't overpromise in terms of your size or expertise—and make sure people are getting what they pay for." While obtaining an 800 number is a courtesy to customers, giving them the illusion that you're in an office suite is not. White argues that so-called alibi agencies and virtual offices (BusinessWeek, 3/27/08) misrepresent a company's true character.
"Ask yourself, if somebody found out the truth, would it create a credibility issue?" says Gene Fairbrother, a small business consultant for the National Association for the Self-Employed. Put yourself in the customer's shoes, he says, since the line between appearing classy and being deceptive boils down to common sense.
To establish credibility, home-based entrepreneurs agree it's necessary to set up a separate business phone line, establish a secluded office space in the home, and invest in a better Web site than the competition's (BusinessWeek.com, 6/9/08). Says Jim Osgood, a 54-year-old broker who operates the commercial real estate site Officefinder.com from his home in Sammamish, Wash.: "You don't need to make yourself appear big, but [you do need to appear] professional."
Pricing Advantage
Another reason to tout a home location is to show you have lower operating costs. "Most people appreciate the fact that we are running out of our home, because we can offer them a better price," says Sue Grover, of R.H. Grover Tree Service in Carlton, Minn. Grover and her husband, Russell, say that, though their budget is less than their competitor's, customers like the fact that their business is domiciled in the community it serves.
Above all, entrepreneurs should realize that having an office on Main Street isn't the only way to convey legitimacy. "Fifteen years ago, if you said you were running a business out of your home, everyone thought, 'Oh, you're not real,'" says Fairbrother. "But all of that has changed." The traditional model of an office with a secretary and a conference room is no longer a prerequisite for businesses. What hasn't changed is the recipe for a healthy business: delivering a product or service consistently, whether from the board room or the living room.
"Don't try to hide it," says Ken Galo, who has run L&K Cleaning Services in Milwaukee since 1999. In considering those who don't want to deal with you simply because the company is home-based, he admonishes: "You wouldn't want them anyway."
For 10 home-based business credibility dos and don'ts, flip through this slide show.
Before it's here, it's on the Bloomberg Terminal.
LEARN MORE