How Mad Men Glammed Up AMC
The acclaimed series has revived the once-moribund channel and lured new advertisers and viewers
Tom Lowry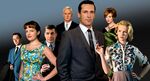 TV executives have a bad case of Mad Men envy these days. After all, many of them passed on the stylish series about 1960s Madison Avenue, never believing the show would catch fire. But the critics adore AMC's Mad Men, the buzz has been deafening, and on July 17 the show earned 16 Emmy nominations.
All this for a series that has rarely attracted more than 1 million viewers per episode. No matter. Don Draper and his hard-drinking, skirt-chasing colleagues at Mad Men's fictional Sterling Cooper ad shop have helped AMC lure new viewers that a diverse crop of advertisers are keen to reach. Among them: BMW, which will sponsor the entire second-season premiere July 27. "Our original shows are our calling cards," says Charlie Collier, who runs AMC. "The movies will always be core for us, but the originals help us enhance the brand." That explains why the once-moribund classic movie channel is spending an HBO-size $8 million-plus to promote Mad Men's new season.
In 2006, executives at AMC's parent, Rainbow Media (CVC), decided the channel needed a makeover. Competing cable outlets such as FX and TNT were getting traction with scripted series. While AMC had had little success with original shows, Rainbow CEO Joshua Sapan greenlighted a pitch about a New York ad agency from Matthew Weiner, a writer-producer on The Sopranos. The HBO classic was hotter than ever, and Sapan wanted some of that pixie dust. A year later, Collier picked up Breaking Bad, a series about a terminally ill teacher who sells methamphetamine to support his family.
Since then, two shows that cele- brate bad behavior (drug dealing and lechery) have helped AMC attract an audience both younger and richer. A third of Mad Men's regular viewers earn over $100,000 a year. Breaking Bad, which scored four Emmy nods and draws more viewers than Mad Men , attracts hard-to-reach young males. BMW has been marketing its 1 Series to young drivers. "AMC is now on our radar," says Shawn Ticehurst, BMW North America's marketing and events communications chief. Heineken and Target (TGT) are both now regular Mad Men advertisers. They and other companies have shown themselves willing to pay up for AMC's original shows, in some cases five times what they pay to appear alongside a movie.
SURGING AD REVENUE
Of course, marketers will flee the moment Mad Men or Breaking Bad tank. That's why Collier, since arriving from CourtTV in 2006, has been working to make AMC's movies resonate more with viewers and advertisers. He is highlighting milestone anniversaries of classic films and putting on movie collections (Planet of the Apes 1- 5, anyone?). And he hired Nielsen to crunch viewers' behavior and preferences so advertisers could target them better. AMC now feels sufficiently confident, say, to tell marketers its 40-year-old male Caddyshack viewer is ready to buy insurance.
AMC, which is part of Cablevision, won't talk numbers. But someone familiar with the channel's operations says advertising revenue has grown 50% since 2006, to more than $230 million. And the Mad Men halo effect has convinced Collier that original shows will continue to have a home on AMC. He recently ordered up a remake of the 1960s cult classic The Prisoner, to start airing next year. The show will star not relative unknowns, like the cast of Mad Men, but such marquee talents as Sir Ian McKellen. Now there's a name AMC executives are sure to drop when they next visit Madison Avenue .
Before it's here, it's on the Bloomberg Terminal.
LEARN MORE