Desperate Housemongers
Forget granite countertopsmarketers are resorting to concerts, free homes, and nude swimming pools
Brian Burnsed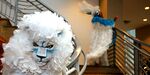 Rarely noted for their restraint during the best of times, frantic real estate marketers are going to surprising new lengths. Tempted by a condo complex skinny-dipping pool? How about two-for-one house deals?
With home prices falling nationwide and consumers fretting over the fragile economy, that plate of fresh-baked chocolate-chip cookies just isn't bringing out buyers. Even free granite kitchen countertops aren't working.
So some builders are going to extremes. Michael Crews Development near San Diego held a buy-one-get-one-free campaign earlier this summer. Following the lead of supermarkets and eyeglass stores, Crews offered a 2,000-square-foot row house, normally priced at $400,000, as an enticement to purchase a $1.6 million-plus four- or five-bedroom with a pool or RV garage. "We wanted to give people something to talk about," says marketing director Dawn Berry. She attributes three sales to initial curiosity about the two-for-one deal (though buyers opted for inducements other than the gratis row house).
The hard-hit condo market is fostering some of the more outlandish hustling. Condo sales have dropped 39% nationally since 2005, compared with 31% for single-family homes. Owners of the Arbors at Branch Creek, a Tampa development, are drawing adventurous consumers by promoting a pool in which residents of both sexes can swim naked. The complex says it has sold four units to sun lovers who prefer relaxing au naturel.
The glamorous appeal of the pop music world offers other options for moving real estate. In April, the developers of Las Olas River House, an upscale high-rise in Fort Lauderdale, paid Bon Jovi guitarist Richie Sambora and a friend about $35,000 to play an acoustic set for prospective buyers. The concert helped sell 12 of 16 vacant units.
In Hallandale Beach, Fla., Duo Condominiums drew hundreds of brokers and guests to look at 32 available units by sponsoring a "white party" modeled roughly on the annual summer Hamptons fete thrown by hip-hop mogul Sean "Diddy" Combs, whose guests wear all white. Five units sold after the event. Says sales manager Barbara Thompson: "We've been so busy, I can't believe it."
Before it's here, it's on the Bloomberg Terminal.
LEARN MORE