Aylwin B. Lewis: Now, to Lunch
Sears Holdings' ex-CEO has a new life in fast food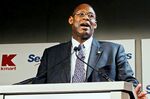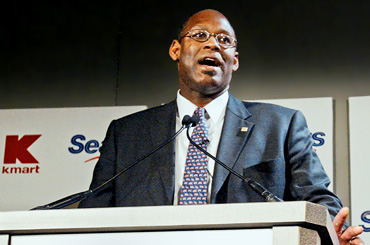 When Aylwin B. Lewis resigned as chief executive of Sears Holdings (SHLD) in February amid falling profits, he planned to tour the world with his wife, Noveline. But between trips to Morocco and Sicily, he got an unexpected offer. Today, Lewis is CEO of Chicago's Potbelly Sandwich Works.
Once head of a struggling retailer with 3,800 stores and more than $50 billion in annual sales, the Texas native now runs a fast-food chain with 205 restaurants and sales of roughly $200 million. But Lewis, 54, says he wants to turn a privately held pipsqueak into a sizzling public rival to Subway. "I've always been a frugal, roll-up-your-sleeves guy," he says.
Potbelly—named after a wood-burning stove in its first location—is big on such eccentricities as flea-market signs, wooden tables, and guitar-strumming troubadours. Investors such as Starbucks (SBUX) CEO Howard Schultz like the homey touches, but shareholders might balk at such frills.
Lewis will have principal owner and chairman, Bryant Keil, watching over him. That arrangement didn't work out for Lewis at Sears, where Chairman Edward Lampert directed strategy and even decided on inventory levels and marketing. But Lewis says Keil and the board have put him firmly in charge: "It's very clear that I'm the CEO."
Before it's here, it's on the Bloomberg Terminal.
LEARN MORE