Paulson: Housing Correction in 'Months'
The Treasury Secretary thinks it will take just months, not years, for house prices to stabilize and most excesses to be washed away
by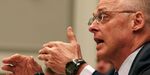 Treasury Secretary Henry Paulson told BusinessWeek editors on July 21 he thinks it will take months, not years, to work through "the largest part of the housing correction." Paulson said that while some of the excesses in housing will take "more than months" to be washed away, "The more reasonable question is: How long will it take to work through the largest part of the housing correction?" Added Paulson: "I think there is a reasonable case to be made that when you look at the housing correction, the largest part of this we can work through in months."
Paulson said that once home prices stabilize, the housing sector could begin contributing to economic growth "well before we're through all the issues in housing." He said, "At the heart of the economic issue is housing."
Other points that Paulson made during his visit to BusinessWeek:
• He took a swipe at critics from both the left and the right who have criticized the Bush Administration's handling of Fannie Mae and Freddie Mac, the two big mortgage-finance companies that the Treasury has offered its support for. Said Paulson: "They all stand up now and say 'I told you so,' but they didn't get anything done."
• Ever since becoming Treasury Secretary, Paulson said, he has advised the CEOs of banks as well as Fannie Mae (FNM) and Freddie Mac (FRE) to make sure they are well-capitalized. Paulson said, "I can't think of cases in history where CEOS got into trouble for raising too much capital." He also said, "If there's any reasonable likelihood that you're going to need it, you should raise the equity."
• Despite that statement, Paulson refused to comment when asked whether he thinks Fannie Mae and Freddie Mac should sell more shares now. Freddie Mac is planning to raise around $5 billion in equity, although it has not said when. Fannie Mae has not announced any plans for share issuance. Said Paulson: "I don't want to be prescriptive right now because I want flexibility in the market."
• Paulson declined to comment when asked whether an explicit commitment from Fannie and Freddie to raise money from shareholders would help win support from Congress for the Treasury's request for the right to make unlimited loans to the mortgage giants. He said he expects the Treasury's request "will sail through Congress."
• Paulson said he doesn't want to discuss long-term issues about Fannie and Freddie's structure at the moment. He said, "From the day I arrived, I have said this is an odd construct." But he added, "My job is to deal with the here and now."
• While Paulson said that stories about people losing their homes to foreclosure are "very sad" and "very regrettable," there are "remarkably few" cases in which people lost homes that they could have afforded to stay in and wanted to stay in.
• Paulson said that the nation's commercial banks remain very safe. He said 99% of bank assets are in banks that fall into the highest safety category.
• On the topic of financial derivatives, Paulson said he favors efforts by the Federal Reserve Bank of New York and others to standardize products and reduce complexity. "We don't have all the tools in the toolboxes that we'd ideally like to have," he said.
• Paulson said his Chinese counterpart in the U.S.-China Strategic Economic Dialogue, Vice-Premier Wang Qishan, said to him recently: "We've been listening a lot to you, and now we find out our teacher has problems." Paulson said he responded, "Learn from us, and you can avoid some of the mistakes."
But Paulson acknowledged to BusinessWeek editors that pushing American-style financial reform and free markets isn't as easy since the credit crunch began. Said Paulson: "If you're asking me if it's a harder sell today than it was before—you betcha."
Before it's here, it's on the Bloomberg Terminal.
LEARN MORE