Broadband TVs: Are We There Yet?
Integrated sets make streaming cheaper and easier. But movie offerings are still skimpy
By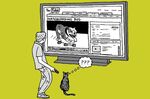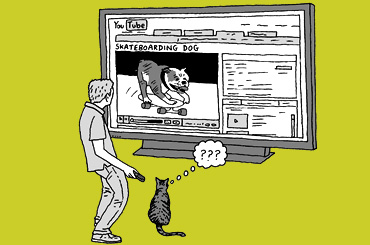 My days of trekking to the video store may be numbered. No fewer than six manufacturers of high-definition televisions, including Hewlett-Packard (HPQ), Panasonic (MC), Sony (SNE), and Samsung, are introducing sets this year that stay permanently connected to your home broadband network and fetch everything from sports scores and weather to videos, movies, and photos you've stored online. With all this content finally coming to the big screen in the living room, why ever leave home?
O.K., I'm overstating the case. Blockbuster (BBI) still has a ton of movie offerings that aren't available anywhere on the Net. And people who want everything on one screen can use any number of stand-alone devices, such as Apple TV (AAPL), PlayStation 3, and Xbox 360. Plug one of these, or almost any laptop, into an ordinary digital TV and you'll be able to browse YouTube (GOOG) or access movie stores.
The difference is, the new TV sets make the process easier and cheaper. You don't have to shell out for a new box or master yet another game controller and on-screen guide.
How well do the integrated TV sets perform? In recent weeks, I've checked out a number of them, including a 42-inch Panasonic PZ850 plasma TV and a 50-inch LCD set from Samsung's stylish Touch of Color line. Setup is dead simple as long as the router for your broadband network is in the same room as your TV. If not, you may need to purchase additional gear that will convert the electrical wiring in your home into a fast network. That gives you access in every room. (Wi-Fi is not an option on most sets.)
Once you're up and running, just follow the buttons on your remote. With Panasonic's service, called Viera Cast, one button takes you to an on-screen menu with pictures of the Internet "channels" that are available, including the Picasa photo-sharing site, Bloomberg TV, the Weather Channel, and YouTube. Google's video site looks surprisingly good on the big screen, and using a television remote to choose Internet channels turned out to be simple and intuitive.
Samsung's service, called InfoLink, is a bit more limited: It lets you run news, stocks, and weather information across the bottom of the screen, but it doesn't have YouTube or the other extended video options you get from the Panasonic or Sony Bravia or HP MediaSmart sets.
Of course, if everything worked perfectly, it wouldn't be the Internet. One day, I got error messages every time I tried to start up Viera Cast, even though another menu confirmed I was connected to the network. (It turned out one connection setting had changed.) And compared with any video-rental store, the range of film offerings for these sets is still disappointing. Fortunately, many manufacturers are contracting with studios to stream movies and television shows on demand or are working with established video providers such as CinemaNow or Netflix (NFLX).
Integrated TVs are bound to get a big boost in the weeks leading up to the Olympics, giving fans the ability to call up YouTube clips of athletes while watching the main event. The TVs will evolve even further next year. Panasonic and others recently have struck deals with cable operators that will let them build converters into their sets, eliminating the need for set-top boxes. Some TVs also will have the power to stream content to any other set in the home. Then, instead of a mere 1,000 cable channels, you'll have the Net's vastness on every screen. Social scientists can decide if that's a good thing. Gas prices being what they are, I'm just happy I won't need to jump in the car as often to satisfy my movie-watching needs.
Before it's here, it's on the Bloomberg Terminal.
LEARN MORE