Apple Struggles to Win Fans in China
Can a beefed-up retail strategy help the computer company boost its measly market share?
by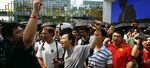 Yang Weiguo, a 20-year-old university student in Beijing, is a committed Apple (AAPL) fan. Given the American company's limited presence in China, that's no small achievement. In April, for instance, Yang bought a new Macbook through MacX.cn, a fan site for Mac users in China that operates an online store unaffiliated with the company. The online store had someone buy a computer for Yang in Hong Kong and courier it up to Beijing, saving him $293, or roughly 17%, on his Macbook purchase.
So when Yang, who is spending his summer as a volunteer for the Olympics next month, found out through the Mac community that Apple would open its first store in China on July 19, he knew he had to be there from the beginning. He arrived at the shop, located in a swank shopping mall in the Sanlitun area of Beijing, 22 hours before it was scheduled to open. He was among more than 100 others who camped overnight—even though he already had his Macbook and wasn't interested in a new iPod. "I don't have anything I need to buy," he says. Still, because he wanted to be there, Yang spent $26 for an adapter cable he could have easily purchased elsewhere.
Smuggling Challenge
Apple executives want to make it easier to convert more people like Yang from the cult of Mao to the cult of Mac. Apple plans to open a second store in Beijing in 2009 and another in Shanghai later. "We expect to be successful here in China because the entire economy is growing," says Ron Johnson, Apple's senior vice-president for retail.
The company has a long way to go. While Apple dominates the digital music player market in the U.S., it sold only 700,000 iPods in China last year, accounting for just 7.5% of the country's MP3 player market. (Smugglers brought in a further 300,000, according to market researcher IDC.) And that's the good news—the company's market position for Macs is much worse. Last year, Apple sold a mere 65,000 Macs in China, earning it a measly 0.18% of the country's computer market share, says IDC. The iPhone is not sold legally in China (BusinessWeek.com, 12/13/07), but market research firm In-Stat China estimates that 400,000 iPhones had made their way to China, accounting for 0.07% of the world's largest cell-phone market, by the end of 2007.
Among Apple's three core products (the iPod, the iPhone, and the Mac), the iPod accounts for four-fifths of Apple's revenues in China, estimates Bryan Yuan, an IDC senior research analyst. Apple has been quietly laying the groundwork for the eventual sale of the iPhone in China, which could one day overtake iPod sales, given the ubiquity of cell phones in China. Apple and China Mobile, the country's largest cell-phone carrier, recently restarted negotiations to bring the iPhone to China (BusinessWeek.com, 01/14/08) after Apple dropped its demand to share profits with telecom operators.
New Retail Strategy
One obstacle for Apple's China sales has been the company's approach to retail. For years it sold iPods and Macs through an authorized distributor network in China's IT malls, shopping centers where most consumers traditionally would buy their electronics equipment. Starting last year, Apple began revamping its retail strategy in China by signing deals to sell through nationwide home appliance chains such as Suning Appliance and GOME Electrical Appliance. Apple also hired senior executives from Motorola ( 2 Next Page
Before it's here, it's on the Bloomberg Terminal.
LEARN MORE