Revenge of the Stockbroker
Amid the ruin, the profit produced by high-net-worth handlers has never been so coveted
By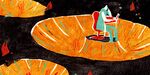 On Wall Street, glory can be such a flaky, fleeting thing. One minute you're a star banker or tech analyst bringing home slabs of dot-com bacon. Management loves you; your Gold Card adores you; you practically own the company car service. But when that game ends, mortgage traders and structured-finance whizzes take over. Until, of course, those emerging-market hotshots in their skinny pants and half-Windsors strut in to annex whole hunks of the bonus pool.
Then everything falls apart, the way the credit contagion is now sickening all of Wall Street. Tens of thousands of layoffs. Hundreds of billions in writedowns. Congressional subpoenas. Sedan bans. Oh, the humanity.
It is amid this celestial realignment that glory lifts the lowly stockbroker. He goes by many aliases: Producer. Financial adviser. Wealth manager. Whatever. Maybe not since the Hollywood heyday of Bud Fox, the Charlie Sheen character in the film Wall Street, has the largely unsung broker been so exalted. Why? Follow the money.
With global subprime losses on track to exceed $1 trillion, investment banks are asking the world to help a poor brother out. They slash bonuses, lay off bankers and bond traders--and hoard brokers. Just this month word got out that struggling UBS (UBS) poached a five-person team managing $1.3 billion in client assets from JPMorgan (JPM). But what goes around comes around: Citigroup (C)'s Smith Barney tore away from UBS a $300 million team with a combined 46 years of experience, a 22-year veteran toting $350 million, and a group near Beverly Hills that had amassed $650 million in assets. Not to be outdone, Credit Suisse (CS) recently snatched from Smith Barney teams managing $11.6 billion and $6.5 billion, plus an $8.8 billion team from Goldman Sachs (GS). Meanwhile, everyone is scavenging from the late Bear Stearns (BSC).
CRUISE CONTROL
All is forgiven, and all is game, when banks are more desperate than ever for predictable, fee-based businesses--and profits. Consider the economics: A brokerage team that amasses $1 billion in assets could hustle enough to "produce" $8 million a year in gross fees--taking home 40% ($3.2 million), while the remaining $4.8 million goes to the house. And it's all on cruise control, with portfolio strategies largely pre-researched and prefabricated by the bank. As you eat what you kill, your main job is to go out and hunt. The head of a high-net-worth team at a major international bank complains that he has never traveled so much: "They keep telling us to get out there and bring in accounts; it's all about scale, scale, scale." Another broker confesses: "This is the stickiest business on the Street. It's really hard to lose a client after you've signed him up."
Indeed, at beleaguered Citi, global wealth management was a rare bright spot in an otherwise miserable 2007. The group's profits soared 37%, to $2 billion. At Merrill Lynch (MER), which has so many brokers that they could well be organized into brigades, regiments, and battalions, wealth management has approximately $1.6 trillion of assets under management. That's a priceless cross-selling platform for other businesses, including currency trading, mergers and acquisitions, and in-house alternative investments. Accordingly, even in these doom times, Merrill's brokerage arm earns "substantially better" than the 20% return on equity that management dreams of attaining firmwide.
Keep following. Globally, the wealth of high-net-worth individuals (defined as having net assets of at least $1 million, excluding primary residences) jumped 9.4% last year, to just under $41 trillion. That's more than 30 times the market valuation brokerage firms have lost just this year. Both India and China saw at least 20% jumps in the ranks of their wealthy citizens. In Korea that figure was 19%, and in Russia it was just over 14%. In the oil-rich Persian Gulf...well, you get the drift.
Wall Street is having a decidedly Pavlovian response. Eyeing clients worth at least $30 million, Goldman Sachs (GS) is opening a Latin American command center in Brazil, which enjoyed a 19% surge in its high-net-worth population last year. Chinese-speaking MBAs can make like Priceline and name their own salary. Every player is jamming the phone lines to cold--call Saudi prospects--and good luck scoring a decent hotel room in Riyadh.
This asset grab can get downright nasty. True story: A team of Wall Street brokers, about to defect with their billions in client assets to a higher-paying Swiss rival, broke the news to their boss. Apoplectic, he gave them an hour to clean out their desks, hand in their ID cards, and leave the building with a security escort. Twenty minutes later, suddenly magnanimous, he congratulated them and insisted they all go out to lunch. Life's too short, right?
At a table in the subterranean Champagne cave of a luxe steakhouse, they shared stories over $140 bottles of shiraz. And more shiraz. Hours passed before a team member realized his cell phone wasn't getting a signal; then another noticed his wasn't, either.
They all wobbled outside to check their voice mails, now stuffed with messages from clients weighing counteroffers from the group's former overlords. Frankly, they were having a hard time refusing.
Before it's here, it's on the Bloomberg Terminal.
LEARN MORE