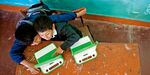 The creation of socially responsible products was important to this year's IDEA jury. It recognized objects and prototypes that promoted sustainability, helped the electoral process, eradicated disease, bolstered village education for the poor, enabled the physically challenged and even envisioned new 21st century theater experiences for lovers of Shakespeare.
GOLD
ONE LAPTOP PER CHILD XO LAPTOPDesign: fuseprojectDesigned for poor children in Third World villages, the XO laptop is a weather-resistant, energy-efficient laptop that links Asian, African, and Latin American kids to the Web.
BALANCE SPORT WHEELCHAIRDesign: Eric Larson, Ricky Biddle, Ben Shao, Austin CliffeThis prototype allows people to guide wheelchairs by leaning to shift their weight, leaving their hands free to dribble, pass, and shoot basketball.
SYLVANSPORT GO MOBILE ADVENTURE GEARDesign: SylvanSport This trim camper can haul 800 lb. of gear, mount bikes and kayaks, and opens up to sleep two. It can be hauled by compact cars.
SIZECHINADesign: Hong Kong Polytechnic University; Delft University of Technology (The Netherlands); Anthrotech (U.S.); Hong Kong Productivity Council; Sheridan College, Institute of Technology (Canada)Chinese and South Asians differ from Westerners in shape, and items such as bike helmets made for export can be uncomfortable and unsafe for the Chinese. This digital database of the forms of Chinese heads and faces invites corporations to design explicitly for them.
Return to The Best Product Design of 2008 Table of Contents
Before it's here, it's on the Bloomberg Terminal.
LEARN MORE