IDEA Design Trend: Elegance and Simplicity
Many of this year's top designs render complex objects more usableor make humble things more intelligent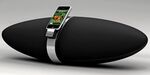 Innovation that transforms entire product categories frequently begins with designs that make complex products easier to use—and often cheaper. Simplicity defined a large number of winners this year. Some products for home and personal use won for sheer elegance. But others, including a mammoth fire truck and a small camcorder, took prizes because their elaborate functions were stripped down and made user-friendly.
GOLD
ROSENBAUER PANTHER Design: Spirit Design (Austria)Built to put out airport fires, this 40-ton vehicle has equipment—including cannons that can shoot 4,000 gallons of fire-extinguishing agents—designed for firefighters in heavy gear.
EVA SOLO BIN Design: Tools Design (Denmark)Clever geometry eliminates hinges and allows this garbage can to open easily in any direction. Inside, bags fold around a simple metal ring. All in a sleek, gleaming skin.
ZEPPELIN IPOD SPEAKER DOCK Design: Native Design and Bowers & Wilkins (Britain)This functional sculpture breaks the mold of home speakers; its polished steel arm integrates smoothly with an iPod (AAPL).
SILVER
HOLEDER EARPHONE Design: Yoon Sang Kim (South Korea) Bacteria in the ear can multiply 700 times faster behind earphones. This concept, by a Seoul National University of Technology student, fits on the rim and doesn't plug the ear.
Return to The Best Product Design of 2008 Table of Contents
Before it's here, it's on the Bloomberg Terminal.
LEARN MORE