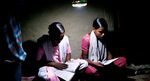 For those who live without electricity—about one in four people worldwide—activities often grind to a halt when darkness falls. The lack of light reinforces the cycle of poverty: Adults are unable to work in the evening, and for children, homework is out of the question. Kerosene lamps help, but with oil prices skyrocketing, they're too costly for many families.
Compact fluorescent bulbs and light-emitting diodes, when powered by solar cells, offer a cleaner, cheaper alternative. Cosmos Ignite Innovations and d.light design (both from India) and Dutch electronics giant Philips (PHG) have all demonstrated designs that use small solar panels to charge compact batteries by day, providing power at night. Philips' Uday lantern, for example, can shine for five hours with the brightness of a 25-watt bulb. Philips is testing the lantern in Ghana and hopes to roll out the Uday in nine other countries in sub-Saharan African over the next four years.
Before it's here, it's on the Bloomberg Terminal.
LEARN MORE