The Driving Force Behind China's Chery
The chief of the No. 1 Chinese automaker has global aspirations. Exports to Italy, Egypt, and Russia are up, and there's talk of a Volvo bid
by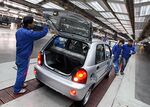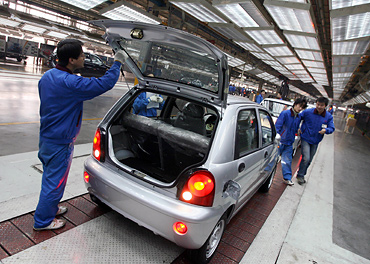 He's a local boy made good. The son of farmers, Yin Tongyao, 45, hails from the Anhui Province village of Liuji, Chaohu. That's just 36 miles from Wuhu, where in 1997, Yin helped found Chery Automobile. Now chairman, Yin has used his engineering knowledge, entrepreneurial energy, and marketing flair to make Chery China's No. 1 domestic automaker and one with global aspirations. On July 6, Chinese business magazine Caijing reported that Chery is considering buying (BusinessWeek.com, 7/7/08) Ford Motor's (F) Swedish Volvo unit for $4.4 billion. Ford and Chery both declined to comment.
Yin distinguished himself early to gain a place at the Anhui College of Technology, where he studied auto manufacturing. In 1984 he won a plum position with FAW, then China's No. 1 auto company. Yin played a key role when FAW hooked up with Volkswagen (VOWG.DE) to create a new auto-manufacturing venture. In the early 1990s he traveled to Pennsylvania to help oversee the shuttering of a VW plant, which was then reassembled at FAW's Changchun, Jilin headquarters. Yin later headed the plant, which still produces Jettas and Audis.
His success at FAW caught the attention of the government in Wuhu in 1995, when it was searching for talent to open a new engine and auto manufacturer. Yin was the right choice: He bought an assembly plant in Spain and an engine plant in Britain, then moved both to Wuhu. In 1999 the Wuhu government-owned Chery produced its first vehicle, the popular 1.6-liter Fengyun. The four-door compact sedan sold well because it resembled the VW Jetta, but was far cheaper.
Innovative Marketing Tactics Help Sales
Under Yin's guidance, Chery became China's most successful domestic brand in 2006. Last year the company sold 369,459 cars, 22.1% more than the year before. Revenues were $2.19 billion, up 33.6%. Market growth has been driven largely by the best-selling Chery QQ, a snub-nosed minicar that goes for $4,500 to $7,700. Innovative marketing tactics help propel sales: For example, Chery encourages buyers to decorate their QQs and then asks consumers to vote online for their favorite design. A car is "expressing who we are, what we are pursuing in our life," says Yin. "We want our cars to be fashionable. I want to produce something that young people will love."
What's ahead? The next big hurdle will be taking on world-class competitors—such as Nissan (NSANY), Toyota (TM), Honda (HMC), and General Motors (GM). "The global competitors are already in his backyard," says Michael Dunne, managing director for J.D. Power China Operations. That means moving beyond the market's low end—most Chery models still retail for less than $10,000—and selling more expensive, higher-margin cars. These include Chery's new Higgo 3, a cross-country SUV, and its Eastar6, which is likely to retail for around $14,500 and comes with a three-screen DVD stereo system.
At the same time, Chery is boosting exports to markets such as Italy, Egypt, and Russia. Since 2003, the company has been China's No. 1 exporter of sedans. And even though some analysts say a successful Volvo bid is unlikely, Chery has already inked a deal with Chrysler. The two companies plan to start soon co-producing economy cars for sale in Mexico and other Latin American countries, and later probably in Europe and the U.S. Says the Chery chairman, "I hope we can become a participant in the world industry with real brand recognition."
Before it's here, it's on the Bloomberg Terminal.
LEARN MORE