Exchanges Get the Bear Market Blues
Shares of Nasdaq and the NYSE have been pummeled as the current grim environment puts the brakes on trading. Are the worries overblown?
by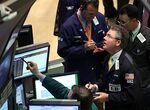 Is this bear market different? That's the key question for Nasdaq OMX (NDAQ) and NYSE Euronext (NYX), the operators of the two major U.S. equity exchanges.
Nasdaq and the New York Stock Exchange don't just facilitate trading in other stocks; they also list their own shares. And it has been a cruel year. The value of both exchanges' equities have been cut roughly in half since the start of the year.
The main worry is that the relentless gloom hanging over the stock market is making the Nasdaq and NYSE's U.S. equity platforms less busy, and thus less profitable. With major indexes 20% off their peaks (the official definition of a "bear market"), investors justifiably start the summer with little enthusiasm for shares.
True, "an exchange can profit regardless of which way the markets are moving," says Bill Cline of the Cline Group, a capital markets training and consulting firm. However, in bear markets—particularly when the market funk lingers—"investors do tend to trade less."
Volatility Dies Down
At first, in late 2007 and especially early in 2008, trading volume was strong amid the turmoil of the financial crisis. A bear market with a lot of volatility can benefit exchanges, says Raymond James (RJF) analyst Patrick O'Shaughnessy. The big danger for Nasdaq and the NYSE is that the volatility is subsiding, and the stock market is facing many months in the doldrums.
Among the worries dampening investors' willingness to make trades: inflation and expensive fuel, the housing slowdown, continuing credit troubles, and falling corporate earnings (BusinessWeek.com, 7/2/08).
In this year's second quarter, trading volume was still high compared with a year earlier, but average daily trading in the U.S. fell 11% from the tumultuous first quarter. Keefe, Bruyette & Woods (KBW) analyst Niamh Alexander says she expects light trading volume in the third quarter, which will hurt profits. "The relentless bear market pressure…appears to be slowing equity trading volume at last," she wrote on July 2.
In an interview, David Warren, Nasdaq's chief financial officer, says volume on his exchange remains "quite robust."
Other Revenue Sources
But he argues that investors are putting too much emphasis on the exchanges' trading business. For Nasdaq, only about 16% of revenue comes from U.S. equity trading. Nasdaq also makes money on the sale of market data, fees to connect to its trading systems, services for companies that list on the exchanges, and technology sold to other exchanges around the world.
"To think about us as a trading company really misses the point," Warren says.
Executives at NYSE Euronext weren't available for interviews. But since the NYSE's merger last year with the European exchange Euronext, the company relies less on stock trading than Nasdaq, analysts say. Nasdaq completed its own European merger earlier this year, to Swedish-Finnish exchange OMX.
Industry experts insist, however, that trading volume is a key determinant of the big exchanges' profits—hence their diversification into new trading products, such as futures contracts or exchange-traded funds. "Trading is still very important for these companies," O'Shaughnessy says.
IPOs Dry Up
Exchanges spend heavily on trading technology and, in the NYSE's case, maintaining a trading floor. But once those fixed costs are covered, each additional trade can be extremely profitable. Still, another lucrative business for exchanges—initial public offerings, or IPOs—has slowed to a trickle as a result of weak market conditions.
Recent mergers have diversified exchanges' revenues, but they also give Nasdaq and NYSE a chance to cut expenses deeply. Both have promised hundreds of millions of dollars in cost savings from their mergers.
In recent years, trading volume on equity exchanges has spiked as new regulations encouraged electronic trading. The NYSE opened the human traders on its Wall Street trading floor to direct competition from computers that can execute trades in nanoseconds. So far, the computers, including NYSE's own computerized platform, NYSE Arca, have won.
With so much trading happening so quickly, NYSE's volume has increased even as its market share has plummeted. Nasdaq has won some of that market share, but both exchanges face cutthroat competition from new, smaller exchanges. "The 'electronification' of the industry has been a blessing and curse for these exchanges," O'Shaughnessy says.
Retail Investors Lose Interest
As hedge funds and other institutions embrace electronic trading, "the individual investor [accounts for] a smaller and smaller portion of overall trading," says Larry Tabb, chief executive of the Tabb Group, a specialized consultant to financial companies. The exchanges worry that the return of the bear will make individuals even warier of the market.
For institutions, the current angst is over "deleveraging." Because of recent credit troubles, investment banks and hedge funds aren't able to borrow as much money, which leaves them less to trade with. That's the theory, anyway. But analysts point out that many hedge funds don't need a lot of capital to trade quickly during the day, and those funds rarely hold large positions overnight.
Also, Tabb says, problems in credit markets have pushed many institutions toward stock investments and away from complicated, structured-credit instruments that are hard to value. "A significant number of investors have moved from mortgage-backed and asset-backed products to markets [whose instruments] are much easier to price," Tabb says. Those investors could ultimately turn their backs on equities, however, if the bear market drags on, Tabb says.
A Tough Group to Figure Out
Through July 8, NYSE Euronext shares were off 46% for the year so far, while Nasdaq stock was down 49%. But the prices have been volatile lately, perhaps reflecting uncertainty about how market conditions will affect their earnings.
The way exchanges operate has changed rapidly in the past few years, and the overlapping trends do make it difficult to evaluate their stocks. "It's a tough sector to keep up with," says Nasdaq's Warren. Investors may be "cautious because they can't figure out all the factors they need to be thinking about."
But investors' immediate concern is whether trading volume is slipping into a long, bear-market lull. In an industry that thrives on risk-taking and volatility, the last thing Nasdaq and the NYSE want is an extended period of peace and quiet.
Before it's here, it's on the Bloomberg Terminal.
LEARN MORE