Fannie, Freddie Sink on Capital Concerns
An analyst suggests that a new accounting rule will require the mortgage providers to raise huge amounts of cash
David Bogoslaw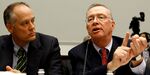 Fears that Fannie Mae (FNM) and Freddie Mac (FRE) could be forced to raise as much as $75 billion in additional capital sent shares of both mortgage backers plunging on July 7 and helped derail a rally in the stock market. Fannie's shares fell 16.2% to close at 15.74, while Freddie's shares fell 17.9% to end at 11.91.
The rout followed a warning in a note from Lehman Brothers Equity Research (LEH) that the Financial Accounting Standards Board (FASB) is considering a new rule that may include removing the qualified special-purpose entity concept from what's known as FAS 140. That would have the effect of requiring off-balance-sheet assets to be brought onto balance sheets, and could force the two government-sponsored enterprises, or GSEs, to raise huge new sums of money to meet capital requirements.
That could have devastating implications for the U.S. housing market, whose extended slump has yet to hit bottom, since Fannie and Freddie are the largest providers of financing for home mortgages in the U.S. Fannie Mae currently has $2.27 trillion of off-balance-sheet mortgage-backed securities and Freddie Mac has $1.42 trillion of them. If they were forced to bring off-balance-sheet assets onto their balance sheets, Fannie's minimum capital requirements would jump by more than $46 billion, and Freddie would need to raise $29 billion in additional capital.
Exemption from Rule Change Likely
Investors bolted at the news, even though Lehman analyst Bruce Harting also said in his July 7 note that the very size of the impact on Fannie and Freddie probably means they would be exempted from having to comply. "We think it's likely the GSEs will be granted an exemption because a literal interpretation of their minimum capital requirements would suggest that the GSEs would become significantly undercapitalized, and it would be very difficult for them to raise the capital needed," Harting said in his note.
Since it wouldn't be in anyone's interest for the companies to be saddled with overwhelming capital requirements at a time when the market most needs them to buy mortgages, and when the capital markets and the economy are in such fragile shape, "we believe calmer heads [at the FASB and other financial industry regulators] will ultimately prevail," the note said.
Paul Miller, an analyst at Friedman Billings Ramsey (FBR) in Arlington, Va., says everything he's heard from numerous discussions about the potential rule change suggests Fannie and Freddie would be spared. To require them to comply with the capital requirements "would be effectively nationalizing the companies," he said, forcing them to be taken over by the federal government.
The real target of the accounting rule change, which could come by the end of 2008, is credit-card issuers that rely on off-balance-sheet trusts, analysts say. Lehman's Harting said in his note he doesn't "believe there will be a need for a reserve build on the loans brought on balance sheet, nor should there be any additional reserve need except for incremental growth to the entire portfolio."
Still Need to Raise Capital
However, Miller says Fannie and Freddie deserve to be trading at their current levels, even if Wall Street is miscalculating the ramifications of an accounting rule change. Both companies still need to raise capital, he says. The value of Freddie shares has been cut in half since May, when the company said it needed to raise $5.5 billion in capital.
"It becomes very dilutive to earnings every day they don't raise capital," Miller says. Freddie has delayed issuing a combination of common and preferred stock to raise the $5.5 billion until it resolves some past accounting issues with the Securities & Exchange Commission, Miller says.
Miller is urging investors to stay away from the GSEs despite their ultra-cheap valuations and has underperform ratings on both stocks. Harting at Lehman conceded that his upgrade of the GSEs to an overweight rating last November had turned out to be wrong or much too premature, but he reaffirmed his view that the companies' growth in profit and franchise value "should produce returns that make today's price look compelling." (Lehman Brothers has provided investment banking services to both companies within the past year.)
Before it's here, it's on the Bloomberg Terminal.
LEARN MORE