business
Britain's Homebuilders Get Bloodied
Writedowns and ballooning inventories plague the biggest companies, but for long-term investors, the shares may soon be buys
Mark Scott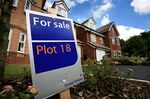 Sudden stock plunges have become all too common since the global economy started to sour last year. Yet when Taylor Wimpey (TW.L), Britain's largest homebuilder by revenue, lost 42%—or roughly $600 million—of its market capitalization on July 2 after failing to secure a bridge loan, investors realized something was seriously wrong.
Now, Britain's other large homebuilders, Persimmon (PSN.L) and Barratt Developments (BDEV.L), are set to unveil quarterly financial results on July 8 and 10, respectively. Analysts don't expect the numbers to be pretty. After years of sizzling growth, Britain's bubbly housing market has fallen apart in the wake of the credit crunch. Sentiment is at a 15-year low, and mortgage approvals have plummeted 64% in the past year.
Britain's real estate downturn isn't as serious as the crisis in the U.S. But the problems facing homebuilders are the latest indication that weakness in the financial sector is finding its way into Britain's wider economy. Signs of trouble are rife: Inflation is rising, industrial production is down, and consumer confidence is at its lowest level since 1990. Countries well beyond Britain's borders would feel the effects if the world's fifth-largest economy fell into recession.
Slow-Motion Decline
The sudden downturn among British homebuilders has caught many investors off guard. Since the early 1990s, the country's strong economic growth and low unemployment—plus demand for housing that continually outstripped supply—helped average home prices double. Shares of such builders as Barratt, Taylor Wimpey, and Persimmon soared in tandem. As late as last fall, it appeared that British property developers might be spared (BusinessWeek.com, 9/28/07) the calamity facing their American counterparts.
But a slow-motion reversal took hold as credit standards tightened and resales dried up. According to the British government's land registry, banks' reluctance to lend money has cut the number of home sales by 42% since the start of this year, while mortgage lender Nationwide says average prices already have fallen 6.3% over the same period. The Royal Institution of Chartered Surveyors (RICS) now predicts that Britain's housing market won't pick up until the second half of 2009, at the earliest.
Investors in homebuilders have fled in droves. Barratt's market capitalization has fallen 91% since the beginning of this year, and Taylor Wimpey's is down 84%. "The construction industry is in a really bad state," says David Stubbs, a senior economist for RICS in London. "It has basically run off a cliff."
As bad as that sounds, the situation remains worse in the U.S., where such builders as Lennar (LEN), KB Home (KBH), and Hovnanian Enterprises (HOV) have been slammed by the housing meltdown. According to the National Association of Home Builders, U.S. industry sentiment has fallen to its lowest level since 1985, and housing prices have dropped almost 20% over the past 18 months.
Mounting Inventory
But for the first time in years, British homebuilders face slumping demand, leaving them sitting on billions of dollars' worth of unsold new homes. In addition to likely writedowns, firms face huge financing costs for the unwanted inventory.
The true extent of the problem became clear on July 2, when Taylor Wimpey unveiled its financial results. The homebuilder was forced to write down more than $1 billion in new construction, including $140 million worth of properties in the U.S.
Worse, it failed to raise new capital to plug gaps in its finances—prompting the massive share decline. "Our markets are experiencing a significant downturn," Taylor Wimpey said in a statement. "We do not anticipate any recovery in the short term."
Analysts figure Barratt and Persimmon will be forced to make similar remarks. Alastair Stewart of Dresdner Kleinwort (AZ) says Barratt might need to find $2 billion of new funding (BusinessWeek.com, 6/11/08) and could write down a quarter of its entire housing inventory. "No one should consider buying [the stock] until details of writedowns, gearing, and any financial restructuring become clear," Stewart says.
Falling Revenue
As for Persimmon, market watchers expect management to unveil multimillion-dollar writedowns on July 8 to help reduce its debt burden after the firm acquired rival homebuilder Westbury for $1.2 billion in 2006. This exposure has led Credit Suisse (CS) to forecast a 37% annual drop in Persimmon's 2008 revenue, to $3.7 billion.
Despite the bleak near-term picture for British homebuilders, analysts are sanguine about the industry's long-term prospects. That's because Britain, unlike the U.S., lacks the space to build large new developments—and housing supply thus remains relatively limited. When financing terms improve and demand reignites, housing could once again go into shortage, putting homebuilders back in the pink. "The lack of supply will prevent significant declines in house prices," says RICS spokesperson Jeremy Leaf.
This scenario could also benefit savvy investors willing to take a risk now on the underperforming sector. The share prices of Barratt, Taylor Wimpey, and Persimmon have fallen 82% this year, on average, but they're likely bottoming out. There's lots of potential upside for buyers with strong stomachs. Alas, that won't help existing shareholders dismayed to discover that after two decades of growth, Britain's real estate market is far from immune to global financial turmoil.
Before it's here, it's on the Bloomberg Terminal.
LEARN MORE