Your Post-Subprime Portfolio
Following expert advice hasn't helped many investors. Here's what went wrong, and what you need to do now
Aaron Pressman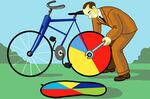 Saving for retirement has never been easy, but the past year has made a complicated task all but overwhelming. The ongoing collapse of the credit markets, sparked initially by problems in subprime mortgages, has challenged some of investors' most cherished and reliable investment beliefs and strategies. Auction-rate securities sold as "cash equivalents" ended up sticking investors with huge losses, supposedly low-risk bond funds blew up, and for those who thought they'd pay for retirement by selling the house—well, need we say more?
As all manner of underappreciated and ignored risks have come back to haunt those who followed the generic advice of brokers, financial advisers, and fund salespeople, let's look at what happened and how to avoid future portfolio potholes.
BOND FUNDS AREN'T THE SAME AS BONDS
Government bonds provide investors with predictable cash flow and the comfort that principal will, barring catastrophe, be repaid at maturity. Bond funds, however, are different, as some investors found out to their horror when the subprime mortgage market plummeted. Mutual funds run by Fidelity and Charles Schwab (SCHW) and promoted as low-risk, ultra-short-term bond funds got caught dabbling in subprime securities. Fidelity's ultra-short fund lost 13% over the past year, and Schwab's YieldPlus Fund (SWYPX) fell a jaw-dropping 32%.
Many advisers think it's smarter to own individual government bonds. That avoids management fees that erode already slender returns. "You're paying an awful lot for the simplicity of the experience," says Richard Kang, a risk-and-investing consultant for institutional investors. He suggests investors buy bonds of various maturities directly to create what's known as a laddered portfolio.
Studies of bond fund performance find the products rarely best the index they're designed to follow. Over the past 10 years bond funds didn't even top the simple strategy of buying a 10-year U.S. Treasury note, which sold in May 1998 with an annual yield of 5.65%. Individuals who bought actual bonds slept soundly, safe in the knowledge that they'll get back their full principal when the bonds mature. The bond market subsequently went on a wild ride, crashing in 2000, rallying in 2004, and then gyrating out of control over the past two years.
As a result, investors in bond funds have had anything but the peaceful experience that bond buyers have enjoyed. The average annual return of intermediate government bond funds over the past 10 years was 4.75%; only 7 out of 223 funds tracked by Morningstar (MORN) in that category since 1998 beat the Treasury return of 5.65%—even with all interest payments reinvested in the funds. A bond buyer who also reinvested all interest payments in a money-market fund would have made even more than the Treasury yield.
"CASH EQUIVALENT" ISN'T NEARLY THE SAME AS CASH
Investors looking for low-risk, stable vehicles in which to invest their cash savings typically relied on certificates of deposit and money-market mutual funds. Both are heavily government regulated, and both suffered from historically low yields over the past few years. So banks and brokerage firms started pushing an alternative dreamed up on Wall Street, dubbed auction-rate securities. These securities, which carried AAA ratings, were actually long-term bonds or shares of preferred stocks. Investors were supposed to be able to sell at auctions every 7, 28, or 35 days. But few were told what would happen if no new buyers showed up at the auction: They'd be stuck.
Harry Newton, 66, sold his telecom industry publishing business a few years ago and ended up with $3.5 million stuck in auction-rate securities pitched as cash equivalents, he says. The yield was slightly higher than on money- market funds, so he'd invested. But in February the market seized up, trapping Newton's money.
But in February the market seized up, trapping Newton's money. Insurance companies backing some auction-rate securities had hit the skids because of subprime losses, and no one wanted to buy the securities.
The lesson is to avoid reaching for extra yield, especially in arcane or unusual markets, says Needham (Mass.) financial adviser Debra Brede: "Don't be a hero."
"RECESSION-PROOF" STOCKS AREN'T
As the U.S. economy began slowing last year, pundits recommended that investors favor more defensive sectors such as health care, which was among the best-performing industries in the past three recessions. With this economic slowdown, however, that advice has proved to be off-base. State Street's Health Care Select Sector SPDR exchange-traded fund, which tracks the performance of all health-care companies in the Standard & Poor's (MHP) 500-stock index, has lost almost 13% this year, the third-worst performance of any sector.
Several factors have hit health-care stocks, including plans by both John McCain and Barack Obama to cut costs out of the system. And the biggest companies in the sector, pharmaceutical giants such as Johnson & Johnson (JNJ) and Pfizer (PFE), are facing an onslaught of competition from generic drugs even as their pipelines of new blockbusters appear nearly empty. "There haven't been too many places for health-care stocks to hide," says David Kovacs, chief investment officer at Turner Investment Partners.
DIVIDEND FUNDS PROVIDED NO HAVEN, EITHER
After taxes on dividends came way down in 2003, Wall Street cooked up a plethora of new dividend-oriented funds, such as the iShares Dow Jones Select Dividend Index (DVY%20DVY%20DVY), which hit the market in November 2003 and quickly attracted more than $1 billion in assets. Part of the pitch was that stocks that pay high dividends perform better if the market turns down. But the funds had an Achilles' heel, which was revealed when the subprime crisis struck: A large proportion of the stocks that pay high dividends were in the financial-services business, the sector hit hardest by subprime losses. The now $5.8 billion iShares fund lost 29% over the past year, trailing the yield of the S&P 500 by more than 16 percentage points.
Financial advisers say investors need to pay more attention to the risks of such concentrated portfolios. One way to hedge those risks is to avoid owning far more of the stocks in a particular sector than are represented in the market overall. So if a dividend fund owns a large portion of financial stocks, investors could cut back on financials elsewhere in their portfolios, says money manager Roger Nusbaum of Your Source Financial, a Phoenix wealth-management firm. That can be more time-consuming than just buying a couple of exchange-traded funds, he acknowledges. "Unfortunately, there are no shortcuts for do-it-yourself investors," he says.
INTERNATIONAL DIVERSIFICATION ISN'T ENOUGH
Academics like to call the benefit of diversifying your portfolio the only free lunch in economics. Over long periods, they've noted, combining different kinds of assets can offer a higher return with less volatility. But it's key that the investment niches truly differ—they have to zig and zag at different times, a feature academics call low correlation. A decade ago, U.S. investors discovered the benefit of adding international equities to their portfolios. Through much of the '80s and '90s, moves in the S&P 500 had only about a 50% correlation with the MSCI EAFE Index, which tracks other major markets.
But that correlation rose to over 80% in the past few years, eliminating much of the benefit, according to research by Ibbotson Associates. It turns out that as big companies increasingly do business across the globe, the returns of their stocks become more similar. Since October, in the wake of the subprime crisis, the MSCI EAFE is down 15.36%, while the S&P 500 is down 15.65%. That means investors need to look beyond overseas stocks to diversify. Commodity index funds, real estate investment trusts, and bonds all offer far lower correlations, notes Ibbotson's chief investment officer, Peng Chen.
Return to the 2008 Retirement Guide
Before it's here, it's on the Bloomberg Terminal.
LEARN MORE