The Wool Industry Gets Bloodied
Pressured by PETA, companies from Timberland to H&M are banning Australian wool
Kerry Capell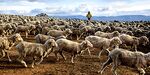 It's an unlikely international cause célèbre: sheep's rear ends. But because of activists at People for the Ethical Treatment of Animals, it's an issue that threatens to undermine Australia's $2.2 billion wool industry.
Forget fur and leather—PETA's latest target is wool. Australian merino wool, to be exact. The animal rights group is on a quest to get clothing companies to quit using wool from so-called mulesed merino sheep. So far, more than 30 have signed on to the ban, including Abercrombie & Fitch (ANF), Timberland (TBL), H&M, and Hugo Boss. On June 4, German sportswear giant Adidas became the latest global brand to add its name to the list. "Approaching companies with big names and deep pockets is the best way to drive change," says PETA official Matt Prescott.
PETA's gripe, mulesing, involves removing folds of skin from a sheep's hindquarters, a process named for John Mules, who devised it 70-plus years ago. The procedure, generally performed without anesthetics, guards against infestation by blowflies whose eggs hatch into flesh-eating maggots. Australian merinos are more susceptible to attacks because they've been bred to have wrinkly coats that boost wool output. Four years ago, when PETA first began lobbying against mulesing, few apparel makers had even heard of the practice. The animal rights group picked Benetton, the Italian company whose name is often associated with sweaters, as its first target. It dispatched protesters wielding placards that read "Benetton: Baaad to Sheep" to picket stores and put up a billboard in New York City with the tag line "Did your sweater cause a bloody butt?"
It worked. Benetton publicly came out in favor of phasing out mulesing. PETA has since had little trouble recruiting other clothing companies to its cause. After all, one European retailer says, who wants to be on PETA's radar screen?
Bad PR couldn't come at a worse time for the Australian wool industry. Production is at an 80-year low, a casualty of prolonged drought. Four years ago, Australian Wool Innovation, the industry's marketing, research, and development council, pledged to phase out mulesing by the end of 2010. AWI has already sunk $13 million into researching options. These range from high-tech (genetically breeding wrinkle-free sheep) to the decidedly crude (surgical clips that cause folds of skin to wither and fall off). AWI Chairman Brian van Rooyen says he is confident "there will be alternatives to mulesing ready for adoption prior to 2010."
STEPPING UP THE PRESSURE
Yet in the eyes of PETA and some retailers, the industry isn't moving fast enough. After H&M met with AWI at the start of the year, it decided to "direct our buying to mulesing-free merino wool because the company felt the phase-out of the practice was proceeding too slowly," says Ingrid Schullström, H&M's corporate social responsibility manager. Hugo Boss has held workshops with suppliers to increase the amount of wool sourced from unmulesed lambs. Both companies say they have been inundated with e-mails from consumers supporting the move to unmulesed wool. "Clearly, this is something that concerns many of our customers," says Schullström.
Australia's 55,000 sheep farmers, meanwhile, are unhappy about being cast as barbarians. Mulesing, they say, is the best way to protect their flocks from an even worse fate: being chewed alive by maggots. Says Charles Olsson, a breeder in Goulburn, New South Wales: "We wouldn't perform this operation unless it was absolutely necessary."
Before it's here, it's on the Bloomberg Terminal.
LEARN MORE