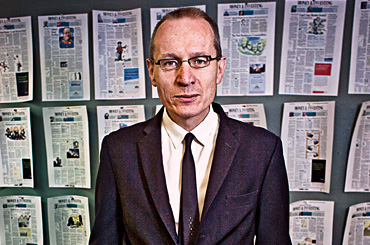 Much could be said about how new Wall Street Journal Managing Editor Robert Thomson is running things. (His detractors certainly have.) What cannot be said is that he's moving too slowly. A lengthy interview with Thomson at the paper—his first in his new role—had the taciturn and brainy editor saying repeatedly that significant changes would either happen or almost be happening by autumn. Among them: ambitious Web changes, plans to move staffers from the Journal and Dow Jones Newswires (which he also oversees) into News Corp.'s (NWS) offices, the manipulation of production processes to get more late-breaking news into more readers' papers...I could go on.
But first, the competition. News Corp. is positioning the Journal as a rival of The New York Times (NYT) in U.S. and international coverage. Rhetoric about stoking its news metabolism runs high. Still, how can the Journal compete with the Times' much bigger newsroom? No worries, shrugs Thomson. "Journalists at The Wall Street Journal have the objective of being objective. At The New York Times, you have news with a skew. Or a skew with news."
This is a ludicrous assertion, albeit one that echoes his boss, Rupert Murdoch. Told that such talk sends some into seizures, Thomson concedes "there are great journalists at the Times," but the paper's "calcification of culture" gives the Journal an opportunity. (The Financial Times, the U.S. edition of which Thomson once ran, fares no better: "Their ability to seduce Journal readers is particularly limited" since the Journal is adding more international news.)
But then Thomson makes his real point, noting that Dow Jones' combined newsrooms employ more than 2,000. (The Times has about 1,200.) This fall, a revamped wsj.com will do more to direct users to stories generated by other Dow Jones properties and also prompt readers to deeper (read: paid) tiers of the site based on what they're reading. Certain content, including some from its database unit Factiva, will be available on a "micropayment" basis, ultimately allowing Amazon-esque, one-click purchases. Also coming: extensive customizing tools for readers to find, through search, much more Dow Jones content. (In Thomson's groan-worthy formulation, "In the contemporary age of content, the customizer is always right.")
The idea that Web users would pay small fees for content has buttressed many failed business scenarios, but Thomson is unfazed: "Some digital ideas don't work out because they happen at the wrong time. Video was meant to work 10 years ago. 3G was meant to work 5 years ago." Neither did then, but "they're working now."
There's been angst regarding what may happen to the Journal's longer- form articles—in particular, the offbeat "A-hed" front-page stories beloved by newsroom denizens. (Murdoch is believed to disdain them, but the paper has recently run A-heds on topics as catholic as ventriloquism and a bid to make ballroom dancing an Olympic sport.)
INCONVENIENT TRUTH
"If longer pieces were to become extinct, they would already be extinct," dismisses Thomson. But he also says "we're not there" in terms of figuring out what should or shouldn't be shortened. He cites Spanish dailies El País and El Mundo as favorites for their "hygienic" look—a description that cracked him up as soon as he voiced it—saying both "understood the relative weight of word and image."
That the Journal ended up in Murdoch's clutches prompted howls. So did the abrupt exit of former Managing Editor Marcus Brauchli. (Thomson now says that "could have been handled differently.") But the inconvenient truth for Journal traditionalists is that an independent Dow Jones could not have spent like News Corp.: The company was small, industry trends were worsening, and the Journal's recent profitability was marginal at best. Now there's a willing, open-walleted owner on board, and an editor with an admirable sense of the global media chessboard mapping out moves. If all this can't make the Journal prosper, perhaps nothing can.
Before it's here, it's on the Bloomberg Terminal.
LEARN MORE