The News: Cable TV's Sleeper Hit
Election '08 is pulling in eyeballs, and the news networks are capitalizing on the opportunity
By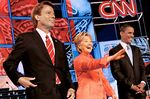 This Presidential campaign has turned out to be a great show: It has telegenic candidates, highly involved spouses, and deeply felt social, economic, and security issues. For cable news networks, what's not to love? Ratings at Fox News (NWS), CNN (TWX), and MSNBC (GE) are up a combined 16% from last year, according to Nielsen. Even the under-55 crowd—young by cable news standards—is tuning in. And advertising at the news channels will increase 14% this year, to $1.4 billion, estimates SNL Kagan, a research firm.
But the election drama will end. Viewers will start to tune out. What then? "This is our time," says NBC News Senior Vice-President Phil Griffin, who oversees MSNBC. "The object now is to keep folks coming back."
Ever since that January night in Iowa when the conventional wisdom about the primaries was proved wrong, the Big Three in cable news have scrambled to expand their political coverage. They've created new shows, brought on better-known talking heads, and produced special features. In March, MSNBC gave White House correspondent David Gregory a daily program, Race for the White House. And the network recently launched, with MySpace (NWS), a contest for short videos that will be shown during its convention coverage.
CNN presented joint debates with YouTube (GOOG) to appeal to its youngest viewers and has been heavily promoting its Black in America series, hosted by Soledad O'Brien. Fox, which enjoys a sizable lead, despite gains by its rivals, is making podcasts of Bill O'Reilly and other commentators available on iTunes. And the networks are doing all that while "trying to avoid election fatigue," says Horizon Media Senior Vice-President of Research Brad Adgate, a former CNN executive.
To advertisers, there's nothing better than engaged viewers and listeners. And they've been willing to pay for them. One of the most important sales measures for networks, the average cost per thousand viewers, is up about 8% this year, nearly twice last year's average. "A rising tide is lifting all boats," says Paul Rittenberg, executive vice-president of Fox. SNL Kagan expects Fox News, with its prime-time lineup of boisterous pundits, to see advertising sales jump almost 20% this year, to $648 million. CNN has signed on eight sponsors for its campaign coverage, twice as many as in 2004, says Greg D'Alba, CNN's executive vice-president for ad sales. Among the new companies are ExxonMobil (XOM), Sharp Electronics (SHCAY), and Hyundai Motor. The carmaker also plans to advertise its new $33,000 luxury sedan, the Genesis, on CNN the night of the Democratic convention.
For some advertisers, the campaign season offers an opportunity to pitch to public opinion, too. AARP places its "Divided We Fail" ads, which call for health care reform, on all three cable networks throughout the day, as well as on their Web sites. "This is their Super Bowl, and it's ours, too," says Emilio Pardo, AARP's chief brand officer.
The networks, of course, are trying to sustain the drama as long as they can. CNN is planning a "first 100 days" show. Fox News is developing a pilot for a talk show with onetime Republican candidate Mike Huckabee. But signs of overexposure already are evident. CNN's Larry King Live recently featured experts who analyzed the body language of Senators Hillary Clinton and Barack Obama and four guests on Gregory's MSNBC show spent time parsing Obama's iPod musical choices.
Before it's here, it's on the Bloomberg Terminal.
LEARN MORE