Praying for Success in Shanghai
The head of SMIC is a born-again boss who mixes evangelical Christianity with business
By and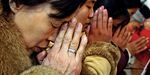 Shanghai - On a gray Sunday morning, some 800 people are crammed into Thanksgiving Church in Shanghai. Among the congregants is Wang Cuimei, a 21-year-old from a village in northern China. She just started working at Semiconductor Manufacturing International, whose headquarters are down the street. While Wang isn't a Christian, she decided to attend the service after hearing about it from the leader of her new-employee training program.
It didn't hurt that top SMIC executives had helped set up the church. "The leaders care about us," Wang says. "Apparently everyone is a Christian, so we wanted to take a look." Adds her friend Liang Shuihong, 21: "We have a responsibility and a duty as employees to go." So the pair made the five-minute walk to the church from their SMIC dorm. Following a sermon from the government-approved pastor and much singing of hymns (with Chinese lyrics projected onto giant screens suspended from the ceiling), Wang says she is impressed and plans to return. "There is a lot of kindness in this place," she says.
That's good news for Richard Chang, the Taiwanese-American chief executive of SMIC. Chang, who eschews the expensive suits, flashy watches, and other bling favored by China's new business class, says spreading the gospel is a key part of his work. He and his colleagues "were called to China to share God's love," Chang says. That sort of talk is rare in a country ruled by a Communist Party that is officially atheist and has a long history of hostility toward Christianity. Yet Chang, 60, feels no hesitation in describing the role his faith plays in his business life. "The Lord says, 'Do good things to those in need,'" he says.
Chang could use some help himself. He spent nearly three decades at Texas Instruments (TXN) and other semiconductor companies before launching SMIC in 2000. Since then, he has built the company into China's largest chipmaker, with operations in five cities, and the world's No. 3 foundry, or contract manufacturer of semiconductors. But even with a slew of A-list customers such as Qualcomm (QCOM), Toshiba (TOSBF), Broadcom (BRCM), and Freescale, Chang has struggled to make the company profitable. SMIC lost $19.5 million on sales of $1.5 billion last year, and its New York-traded American depositary receipts have dropped more than 80% since the company's initial public offering in 2004.
HELP FROM ABOVE?
Righting the ship is now Chang's biggest business challenge. In April, SMIC announced it had phased out memory chips, which once contributed a majority of the company's revenue, because it's so difficult to turn a profit in that cyclical business. Instead, SMIC is focusing more on higher-end chips. In December the company signed a deal to license advanced chip manufacturing technology from IBM (IBM). And SMIC says it's talking with potential strategic investors interested in taking a stake in the company to help fund new, multibillion-dollar chip plants. "We knew there would be challenges [in China], but we knew the Lord would help us to solve the difficulties," Chang says.
Chang's efforts are part of a growing focus on China by evangelical Christians from the West. Although Beijing requires all congregations to adhere to a one-size-fits-all Protestant church that doesn't differentiate among Methodists, Baptists, or others, there are signs that evangelicals are gaining popularity. Geoff Tunnicliffe, CEO of the World Evangelical Alliance, traveled to China in April, and Franklin Graham, Billy Graham's son and heir, gave a Sunday sermon in May to 12,000 people in the eastern city of Hangzhou.
Few mix the Bible and business as openly as Chang. He helped fund the church in Shanghai—which opened on Christmas Day 2005—and several others across the country.
He helped fund the church in Shanghai—which opened on Christmas Day 2005—and several others across the country. He emphasizes that the money is his own, not SMIC's, and says the company doesn't force anyone to attend services. "If they want to know more about Christianity," he says, "we encourage them." Pastor Shen Xuebin, associate general secretary of the Shanghai Christian Council, the government body that oversees official Protestant congregations in the city, stresses that it wasn't SMIC that built the Thanksgiving Church. "China's church," he says, "built this church."
CHRISTIAN LEADERSHIP
Chang, who says he was born again as a teenager in Taiwan, has helped draw many other evangelicals to Shanghai. Matthew Szymanski, an evangelical Christian who joined SMIC in 2007 after working as a legislative aide on Capitol Hill for the Republican House leadership, estimates there are 1,000 Christians among the company's 12,000 employees, including "a substantial minority" of top managers. For instance David Lin, senior director of chip design services, became a Christian in 1993 while working for AT&T Bell Labs in Pennsylvania. Lin and his wife have been active in various churches since arriving in Shanghai in 2002. "Our decision to come to China was primarily because we hope to spread the Gospel," he says.
Pastor Shen says he's happy to get support from Chang and other SMIC executives. There's no conflict, he says, between the Party's goals and what the Christians are doing. "We are contributing to economic reforms," says Shen. Adds Chang: "The government realizes the value of good religion." Indeed, for a government that antagonizes the Vatican by appointing its own bishops, suppresses the indigenous Falun Gong religious movement, and vilifies the Dalai Lama, there might even be some propaganda benefits in courting Chang and his Christian community at SMIC.
Still, religion is a sensitive subject, and Chang makes it clear that his good works aren't just church-related. He has, for instance, funded schools and set up training programs for young SMIC workers, and the company donated $140,000 to victims of the May earthquake in central China. He boasts that SMIC was one of the first Chinese companies to provide psychological counseling services for employees. And SMIC offers stock and options to every worker. "With the Lord's blessing, we believe that stock options may significantly benefit employees," he says. And if more of those employees drop by Thanksgiving Church on Sunday mornings, all the better.
A table accompanying "Praying for Success in Shanghai" (What's Next, July 14 & 21) erroneously stated that Richard Chang, CEO of Semiconductor Manufacturing International (SMI), was born in Taiwan, where he was raised. He was born in Nanjing, China.
Before it's here, it's on the Bloomberg Terminal.
LEARN MORE