business
Japan's New Green Car Push
Detroit will have to work hard to catch Japanese automakers in the race to produce hybrids, electric cars, cleaner diesels, and fuel-cell vehicles
Ian Rowley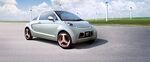 Since General Motors (GM) first showed its Chevrolet Volt plug-in hybrid (BusinessWeek.com, 1/7/07) concept car at the North American International Auto Show in January 2007, the industry hype has been unrelenting.
Any lingering concerns over the cost and reliability of lithium-ion batteries, a technology not yet used in any mass-production hybrid car but which will help power the Volt, are outweighed by the excitement that GM will finally have a vehicle capable of rivaling Toyota's (TM) Prius hybrid as the green car champion.
Yet when the Volt arrives in November 2010, assuming GM meets its challenging deadline, can the U.S. automaker make up for lost time in the race with Japan's automakers to produce cleaner, more fuel-efficient cars? Even if the Volt is as impressive as GM hopes, a slew of recent announcements by Japan's automakers suggest closing the gap will be tough.
A Lot More Hybrids to Come
From now through 2010 and beyond, they are pushing ahead with plans for hybrids, electric cars, cleaner diesels, and even, further down the road, fuel-cell vehicles (see "Japan's Green Drive"). The days when auto executives mocked the Prius as a loss-making fad seem long past. "Without focusing on measures to address global warming and energy issues, there can be no future for our auto business," Katsuaki Watanabe, Toyota's president, said at an environmental forum in Tokyo on June 11.
In the short term, that means many more hybrids. By the early 2010s, Toyota aims to more than double hybrid sales, to 1 million a year, far more than all other automakers' combined hybrid sales so far.
To meet its targets, Toyota will roll out several new models. Next year, Toyota is expected to add two new cars that it will sell only as hybrids, one badged as a Toyota, the other a Lexus. A new version of the Prius, which promises to be lighter and more fuel-efficient than the current generation, should also appear in 2009, and a plug-in version, which like the Volt will use lithium-ion batteries, is due to arrive a year later. By 2010, Toyota is also believed to be planning two more dedicated hybrid models, including a new hybrid minivan.
Toyota Takes a Long-Term View
Toyota will start production of Camry hybrids in Thailand next year and in Australia from 2010, and is already building a new factory in Japan for nickel-metal hydride batteries used in today's hybrids. "Toyota will continue to increase production of its current hybrid technology and should be selling over 800,000 units a year before we even see the first Chevy Volt," says Kurt Sanger, an analyst at Deutsche Bank (DB) in Tokyo.
Toyota is also looking beyond the next-generation lithium-ion battery: A special battery-research division it set up in June will start off with 100 engineers, but their numbers will double by 2010. The fruits of these researchers' labors may not emerge until 2030, according to some Japanese press reports (BusinessWeek.com, 6/12/08).
Japan's No. 2 automaker, Honda (HMC), is also turning up the heat. In hybrids, Honda will launch several new models, and expects to be cranking out 500,000 gas-electric cars not long after 2010 (BusinessWeek.com, 5/21/08).
Honda Burnishes Its Green Street Cred
First up will be Honda's push to build a car that's got Prius-like credentials. Sold only as a hybrid and practical enough to seat five in comfort, it will have a sleek exterior based on Honda's FCX Clarity fuel-cell car and a price tag that's "affordable," CEO Takei Fukui told reporters in Tokyo on May 21. And it's destined for Japan, North America, and Europe starting in early 2009.
That will be followed by a sporty hybrid based on the CR-Z concept car (BusinessWeek.com, 10/10/07), which Honda unveiled at the Tokyo Motor Show last fall. A new version of the Civic hybrid is next, when the compact car gets a design makeover around 2010, and then a hybrid version of the subcompact Fit hatchback. Honda's larger cars, however, will sport clean-diesel engines, with a diesel added to the Acura luxury lineup set for next year.
Where Honda has an advantage is in fuel-cell vehicles, which run on liquid hydrogen and emit only water. On June 16, Honda began limited production of its new fuel-cell model, the FCX Clarity. The car can go 280 miles on a single tank of liquid hydrogen and boasts higher fuel efficiency than comparable gasoline or hybrid models.
Unlike other fuel-cell cars, whose bulky tank and powertrain make for cramped quarters for passengers, the FCX Clarity seats four adults comfortably and still has ample space for luggage. Honda will build and lease just 200 in the U.S. and Japan in the next three years, but CEO Fukui thinks the technology will be ready for the mass market "at the price of a luxury car within 8 to 10 years." One big challenge, of course, is cost: Honda spends an estimated $1 million on every FCX Clarity it makes today. Getting production costs below the $100,000-per-car level will be key.
Nissan's Electric-Car Initiative
Nissan (NSANY), Japan's third-largest automaker, is no Toyota or Honda. Today, it sells just one hybrid model, a gas-electric version of the Altima sedan that relies on technology supplied by Toyota. But Nissan is trying to rectify that as it pushes ahead under a new business plan through 2012. Later this year, Nissan will begin selling its first clean diesels in Japan and will launch a diesel version of the Maxima sedan in the U.S. by 2010. Belatedly, the company is also working on its own hybrids. But perhaps more important, in 2010, Nissan will also introduce a lithium-ion-battery-powered electric vehicle in the U.S. and Japan and then sell the vehicles to consumers globally in 2012.
Nissan CEO Carlos Ghosn says electric cars, which don't emit any harmful greenhouse gases, are superior to hybrids and plug-in hybrids, which partially rely on gasoline engines. "We really want to be the first [to offer electric vehicles] in the mass market," Ghosn said following Nissan's annual shareholder meeting June 25. "Zero-emission [cars are] part of what the global market is looking for and ready to pay for." (Debate rages over whether electric cars are really "zero emission," given the electricity used to charge their batteries, depending on the location, could have been generated at polluting coal-fired power stations).
Even minnow Mitsubishi Motors is rushing to commercialize an electric car called the i-MiEV in 2009. Basing it on the "i" minicar, Mitsubishi is currently conducting fleet tests with several Japanese electric power companies. Reports in Japan say Mitsubishi will produce 2,000 lithium-ion-battery-powered i-MiEVs in 2009, rising to 10,000 a year by 2011. The price is likely to be initially between $23,000 and $28,000. Exports are to start in 2010.
Subaru maker Fuji Heavy Industries will also introduce an all-electric car in 2009. "Japanese makers launched hybrid and developed fuel-cell cars far in advance of the global competitors," says Tatsuo Yoshida, an analyst at UBS (UBS) in Tokyo. "Their accumulated real-world knowledge is enormous and that makes a big difference."
Before it's here, it's on the Bloomberg Terminal.
LEARN MORE