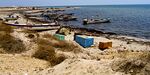 Jazan, Saudi Arabia - Some 80 miles north of the Yemeni border, on Saudi Arabia's Red Sea coast, lies a desolate stretch called Jazan Economic City. Though the 40-square-mile area today is little more than desert scrubland, over the next couple of decades it is to become a $30 billion industrial zone that's home to hundreds of thousands of people. One barren parcel is slated to house a $4.5 billion aluminum smelter run by China's Chalco (ACH), another a refinery, and a third a steel complex.
A tidal flat along the Red Sea—where a Bedouin snoozes in the shade of a makeshift shelter while his camel wallows in the mud to cool off in the 108F heat—is to become a Dubai-style waterfront, where movers and shakers will be able to park their powerboats just outside their back doors. The new city "should be a great place to live," says Ali Taher Dabbagh, the project's chief engineer.
Jazan is part of an ambitious Saudi scheme to wean the kingdom from its dependence on oil exports. The idea is to tap a blend of foreign and Saudi private money and government support to build a half-dozen new cities in regions that trail the rest of the kingdom economically. Each will have a mix of industries meant to diversify the economy and generate jobs to help reduce unemployment, estimated at 12% nationwide.
The province of Jazan fits the bill. It's a sleepy place, with terraced mountainsides and turreted houses painted bright pink and blue. Its rich highlands yield mangoes, grapes, and bananas. Baboons roam the mountains, while islands just off the coast are home to a wildlife refuge that shelters rare gazelles. But unemployment among Jazan's 1.2 million inhabitants runs about 20%, and some 12% of the population is illiterate.
The new city could transform this pleasant backwater. The project is expected to include factories producing auto components, pharmaceuticals, food, and more, creating some 500,000 jobs. "It's going to make us [grow like] crazy," says Fahad A. Galam, chairman of the Jazan Chamber of Commerce & Industry. Land prices in the town of Baysh, 15 miles from the site of the new city, have already tripled.
But the project's success is far from certain. Saudi contractors and producers of building materials are having trouble keeping pace with demand, so constructing Jazan and the other cities could create further strains and boost inflation, currently about 10%. Building in remote areas could increase energy consumption, cutting into exports of crude. And Jazan is far from oil and gas fields, so it may be difficult to supply the city's vast energy needs.
Jazan's workers, meanwhile, may be more willing to take industrial jobs than other Saudis, but given the area's low level of education, they'll need extensive training. There are no Saudis among the 300 laborers building a hotel on the site, and many of the thousands of additional workers needed will certainly be brought in from Pakistan, India, and China.
Despite those hurdles, the project's developers—Malaysia's MMC and Saudi Binladin Group, a respected contractor owned by the family of Osama bin Laden—are optimistic. They think the project will attract Asian and Western businesses interested in serving both Saudi Arabia and fast-growing African countries just across the Red Sea. "While everyone else in the world is having trouble," says MMC international CEO Feizal Ali, "the Gulf region is booming."
Before it's here, it's on the Bloomberg Terminal.
LEARN MORE