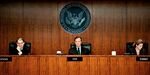 Once again, investors are discovering some unpleasant truths about the quality of credit ratings given to complex debt instruments during the boom. On July 1, Moody's Investors Service announced the resignation of a top executive and said others may be fired, following a series of problems that led to a $1 billion chunk of securities being improperly rated AAA. Moody's has since stopped rating some of those securities and downgraded others to junk.
With investors' losses topping the hundreds of billions as many once highly rated securities have tumbled, ratings agencies have come under withering criticism for issuing scores that have proven far too optimistic. Already, under rising pressure to rethink their roles, New York Attorney General Andrew Cuomo has announced a deal with the three largest ratings agencies to reform the way they collect fees from debt issuers. Now, the Securities & Exchange Commission is moving to lessen investors' reliance on the scores. Proposed new rules would boost disclosure about how agencies compute ratings and limit the conflicts of interest that could arise because ratings are paid for by a debt issuer.
And in what some see as the most significant of the SEC's moves to date, in late June the commission proposed new rules intended to eliminate requirements that money market managers and broker-dealers use ratings. SEC Chairman Christopher Cox wants to eliminate the quasi-official status that the SEC's regulations may confer on credit ratings so that institutional investors do more research on their own. Critics say many investors placed far too much weight on those ratings, snapping up complex securities without understanding what they were buying.
Unmaking the Grade
To remove its official imprimatur from ratings, the SEC wants to change the ways it requires institutions to use the grades. Under current rules, money market funds are largely limited to holding only highly rated, short-term assets. And the SEC allows a broker-dealer with highly rated securities on its books to maintain less capital than one that owns more low-rated debt.
The commission found a total of 44 places where its rules mandated the use of ratings and proposed eliminating or changing most of that language. Instead of requiring that money managers own highly rated securities, for example, the SEC would now require them to show that their assets pose minimal credit risks and that they have enough liquidity to meet foreseeable redemptions.
However, not much may change for the large agencies that dominate the sector, such as Moody's (MCO) and Standard & Poor's, which, like BusinessWeek, is owned by The McGraw-Hill Companies (MHP). (S&P and Moody's declined to comment directly on the proposed SEC rules. Both say they support the commission's efforts to improve market transparency.) Many market observers argue that the use of ratings is far too embedded in the investment process for their role to fade considerably anytime soon. "I don't see any diminished use of the ratings coming out of this," says Martin Fridson, a high-yield debt specialist who runs Fridson Investment Advisors, a money management firm.
One reason: Institutional investors, even those that do considerable due diligence, need some sort of outside measure of default risk, and the major credit agencies are pretty much the only game in town. After all, the agencies have access to financial information that's not publicly available. "We're somewhat beholden to them," says a risk manager at one insurance firm. "I don't see a choice but to use them."
Rules Abound
Moreover, the mandated use of ratings goes well beyond the few dozen instances cited by the SEC. Goldman Sachs (GS) analyst Peter Appert points out that the sheer number of rules and policies that rely on ratings at a variety of institutions makes it hard to move away from ratings entirely. Federal and state regulators overseeing banks, pension funds, and insurance companies depend on ratings to define what types of investments the institutions can hold, while both the Federal Reserve and the Basel II accords also mandate their use.
Throughout the private sector, too, ratings are widely used to define what fixed-income money managers can buy. "There are probably tens of thousands of [rules] that reference ratings," says Deborah Cunningham, chief investment officer of Federated Investors and co-chair of a ratings task force for the Securities Industry & Financial Markets Assn. Cunningham says most investors will keep using ratings, even as they bolster their own research. Investors may provide some additional work to the smaller agencies the SEC has let into the sector: From just three firms in 2002, 10 agencies are certified by the SEC today. "I don't think this is about de-emphasizing the agencies as much as it is about reemphasizing the other aspects [of investors' due diligence]," she says.
Before it's here, it's on the Bloomberg Terminal.
LEARN MORE