Scourge of the Oil Speculators
Money manager Michael Masters, who seeks to rein in oil prices, owns some interesting stocks: GM and airlines
Moira Herbst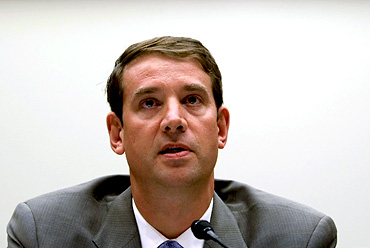 In the halls of Congress, hedge fund manager Michael Masters has become the new face of the antispeculation movement. Testifying with executives from airlines, petroleum marketers, and consumer advocacy groups, the 42-year-old founder of Masters Capital Management has railed against loose regulation in futures trading and argued that speculators have provoked the dramatic surge in energy costs.
"Food and energy price rises really bother me," Masters says. "People don't understand. How many fewer calories should someone in India eat so index speculators can have asset allocations? How many degrees lower does a lady in Maine set her thermostat for these asset allocations?"
On May 20, at the first of three congressional appearances, Masters assured senators that he and his fund do not invest in oil futures. But beyond hunger and frostbite concerns, it turns out Masters has a keen financial interest in lower oil prices: long positions in U.S. airline stocks and General Motors (GM), two industries that have been brutalized by the doubling of oil prices over the past year.
Financial blogger Greg Newton wrote on June 26 that while Masters presented himself as a disinterested party in oil futures, "his hedge fund portfolio is at least knee-deep levered long in U.S. airline stocks and General Motors," citing Masters Capital filings with the Securities & Exchange Commission. "Mr. Masters, protestations of independence and good faith notwithstanding, most definitely has a dog in the energy price witch hunt."
Fuzzy Math?
As of Mar. 30, Masters had large call options in GM; AMR (AMR), the parent of American Airlines; Delta Air Lines (DAL); United Airlines' parent, UAL (UAUA); and US Airways (LCC). Masters Capital also holds stakes in Google (GOOG), newspaper publisher Gannett (GCI), telecom equipment maker Alcatel-Lucent (ALU), and Lennar (LEN), a Florida homebuilder, according to a quarterly SEC filing required of institutional investors with holdings above $100 million. (GM shares fell to a 33-year low, below $12, on June 26.)
Airlines accounted for 20% of Masters' declared portfolio on Dec. 31, 2007; with additional GM shares added in the first quarter of 2008, the fund's "energy-sensitive holdings" came to 30%, Newton wrote. Masters' portfolio declined 35%, from $1.38 billion in December 2007, to $905 million in March, Newton calculated. He cautioned that the SEC filings are "snapshots" that do not reveal any trades around the various positions and that call options' percentage returns "behave differently to the underlying stock depending on the strikes and volatility."
In an interview June 27, Masters called Newton's math "way off," in part because it did not account for offsetting positions, and other options and derivatives not reported on the SEC forms, known as 13F-HRs. He declined to elaborate on the fund's position or overall performance. Masters acknowledged that about 10% of his fund's portfolio is invested in transportation stocks, and says no congressional staff members raised concerns about his fund's holdings.
"The Most Powerful Guy in Washington"
Masters says that as an investor and consumer, he sees no conflict of interest in testifying. "Yes, we are talking our positions," says Masters. "We'd like energy prices to go lower, for crude to go lower. Any stock market investor does." In his Washington testimony, Masters has explained to lawmakers how a flood of money from institutional investors has created a financial "demand shock," bidding prices ever higher (BusinessWeek.com, 5/21/08). On June 23, Masters claimed crude oil prices would likely drop by half if the U.S. market had tighter regulation.
At a May 20 hearing, Masters also explained his motivation for testifying: "I am speaking with you today as a concerned citizen whose professional background has given me insight into a situation that I believe is negatively affecting the U.S. economy. While some in my profession might be disappointed that I am presenting this testimony to Congress, I believe it is the right thing to do." At a June 24 hearing, Senator Claire McCaskill (D-Mo.) told Masters: "Those of us who run for office feel an incredible pressure to do something." She added that with his argument that a few regulatory fixes could quickly deflate the price of oil, "You may be the most powerful guy in Washington right now."
Masters says he never wanted to become the public face of the movement to regulate oil speculation, but felt a duty when asked by Senator Joe Lieberman's (I-Conn.) staff to testify. Oil's price surge is "a big problem, and it's hurtful to a lot of people and to the economy," he says. "I wanted to help people understand what's going on in this market." Masters, who lives with his family in the Virgin Islands, where his fund is based, likens congressional hearings to "glorified jury duty."
Criticized as His Arguments Gain Traction
Reluctant as he may be, Masters speaks in impassioned terms about oil prices. But criticism is coming from other quarters. Economist and columnist Paul Krugman wrote in The New York Times on June 27 that Masters is "making the bizarre claim that betting on a higher price of oil—for that is what it means to buy a futures contract—is equivalent to actually burning the stuff."
Heads of the New York Mercantile Exchange (NMX) and IntercontinentalExchange (ICE), U.S. Secretary of Energy Samuel Bodman, and analysts at Goldman Sachs (GS), Morgan Stanley (MS), and Barclays Capital (BCS) argue that markets are reacting to supply and demand signals and not commodity index investments.
Still, Masters and his allies' arguments are gaining traction. On June 26 the House of Representatives passed the Energy Markets Emergency Act, 401-19, calling for the Commodity Futures Trading Commission (CFTC) to use its emergency powers to "eliminate excessive speculation." At least five other proposals to increase regulation of commodities trading have been proposed in Congress in recent weeks. And as oil prices continue setting new records, pressure for action builds. The price of a barrel of West Texas Intermediate crude oil hit $142.99 in intraday trading on June 27, settling at a record $140.21.