Stringer, Sony Step On the Gas
The chief executive's big promises hinge on better TVs, broader markets, and Internet offerings to rival Apple and Netflix
Kenji Hall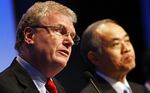 After three years of rebuilding, Sony (SNE) Chief Executive Officer Howard Stringer is out to prove that the company hasn't forgotten how to innovate and grow. On June 26, Stringer & Co. unveiled an ambitious agenda of financial targets and product launches that show how the Japanese electronics and entertainment giant hopes to take on the tech industry's high-fliers.
Topping Stringer's to-do list: Reverse the losses from TVs and video games this year. Few financial analysts had been expecting that to happen so soon. That's because Sony is still struggling to lower the costs (BusinessWeek.com, 5/15/08) of making its PlayStation 3 gaming consoles and flat-screen TVs, and is in the midst of shutting down its outdated picture-tube and unpopular big-screen rear-projection TV businesses. TVs and games comprise nearly 30% of Sony's $82 billion in overall sales, but their combined $1.8 billion in operating losses last fiscal year prevented Stringer from delivering on his promise to raise the company's operating profit margin to 5%. (It was 4.2% last year, which ended in March.)
Just breaking even in both areas would lift earnings significantly. Sony has already forecast a 20% jump in operating earnings to $4.2 billion on a 1% rise in sales to a record-high $83 billion. The gains would also help Sony raise return on equity to 10% within three years, from 8.6% last year, as Stringer is now promising. ROE gauges how much profit a company is making with the money it has raised from shareholders, and many analysts prefer it over profit-margin targets because it shows them how a company measures up against others in the industry. "It's reasonably bullish and achievable," says Daniel Ernst, a technology analyst at Hudson Square Research in New York.
Going for Living Room Dominance
But Stringer isn't thinking only about making more money. He's trying to add to the momentum Sony now has thanks to reforms he started three years ago. Back then, Stringer promised to fix Sony's worst problems and end the factionalism that had left the company's earnings in a shambles. He vowed to cut 6% of Sony's workforce of 151,000, shut 11 of 64 plants worldwide, and sell over $1 billion in land and other assets. He has done as promised. He has also sold part of the financial division, approved superclear next-generation flat-panel TVs using a technology called organic light-emitting diodes, or OLEDs, and given the Sony-led Blu-ray (BusinessWeek.com, 1/8/08) high-definition DVD format a big win over rival HD-DVD.
Now, he's trying to make Sony a dominant presence in the living room. One strategy: "We want to restore the TV to the center of the home," Stringer told journalists at Sony's headquarters in Tokyo. The company expects to sell 17 million LCD TVs this year vs. 10 million last year. By 2010, Stringer wants Sony to be the world's top TV brand. By then, market researcher iSuppli predicts LCD TV sales could top 151 million. But spurring innovation won't be easy during an economic slump, so Sony plans to broaden its reach in the fast-growing markets of Brazil, Russia, India, and China.
The key, says Stringer, will lie in Internet offerings. This summer, the company makes its first foray into online video services. Sony will start selling downloads of movies and TV shows in the U.S. through the PlayStation 3 gaming console, and eventually expand to Europe and Japan. By the fall, it will release its long-awaited Home (BusinessWeek.com, 4/22/08), an interactive 3-D online world where gamers can meet up and play games, and advertisers can target gamers. Since its launch in late 2006, Sony has sold 12 million PS3s, and the company has rapidly added new offerings to its PlayStation Network online store of games, music, and other add-ons.
Challenging Apple and Netflix
A few months after the PS3 video service's rollout, Sony will start streaming similar content directly to Internet-connected, liquid-crystal-display Bravia TVs in the U.S. The first direct-to-TV movie will be Hancock from Sony Pictures, which will be available before it's released on DVD. It's not clear what Sony will charge per download, how many titles will be available, or whether studios other than the company's own Sony Pictures Entertainment will sign on.
But the service itself is a big deal for Sony because it marks an attempt to bypass satellite and cable distribution channels and challenge Apple (AAPL) and Netflix (NFLX), which had a head start in online download services. "The brilliance of Apple products is in the software," says Stringer.
In three years, Stringer wants practically everything Sony makes to be compatible with the company's universe of online services and to be able to connect wirelessly to an Internet gateway. "Most of what you've been hearing today," he says, "is a considerable upgrade in our reputation for software."