Who's Afraid of a Feverish Economy?
Foreign investment keeps coming as the Vietnamese government moves to restrain exuberance
By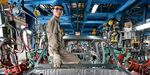 Ho Chi Minh City - Michael J. Pease has a problem Ford Motor (F) executives in the U.S. can only dream of. Demand in Vietnam, where Pease runs Ford's operations, is so strong he can't make cars fast enough. "We are capacity-constrained," says Pease, who saw sales double in the first five months of the year. To put enough Focus sedans, Everest SUVs, and Transit vans in showrooms, he plans to cut the ribbon on a newly expanded factory near Hanoi in July. "This is our best year ever," he says.
Wait a minute. Isn't Vietnam's economy having one of its worst years ever? Well, the stock market is down more than 60% since January, and housing prices are off by a third. Inflation is raging at 25%, the trade deficit is ballooning, and the currency, the dong, is headed south as people buy dollars and gold. "Vietnam is facing its most difficult time since the beginning of economic reforms" in the late 1980s, says Le Dang Doanh, a senior fellow at the Institute of Development Studies, a private think tank in Hanoi.
Yet Ford isn't the only company doubling down. Taiwanese heavy industry giant Formosa Plastics just got approval from Hanoi to invest $7.8 billion in a steel mill, power plant, and port. And in March, Samsung unveiled plans for a $670 million mobile-phone assembly plant outside Hanoi. "Regardless of the economic situation, Vietnam is still very attractive," says Chi Yong Cho, Samsung's handset strategy chief. So far this year the government has approved $21 billion in foreign direct investment, just over the amount given the green light in all of 2007.
How to reconcile the optimism among foreign companies with the dire economic forecasts? Foreigners are looking at long-term fundamentals, which few would deny seem attractive. While the government has revised its projections downward, it's predicting gross domestic product growth of 7% this year, compared with 8.5% in 2007. "We still see a lot of investors talking about plans to set up manufacturing," says Le Trong Hieu, manager of Saigon Hi-Tech Park, where Intel (INTC) expects to open a $1 billion plant next year. "They all believe the economic turmoil Vietnam is going through is short-term."
A TIDE OF CAPITAL
Vietnamese consumers show few signs of slowing down, either. Auto sales are up by 162% this year. PC sales increased 21% in the first quarter, to 360,000 units, researcher IDC reports. VinaGame, the country's leader in online gaming, says it has 50% more users than a year ago. "We have no evidence that people have stopped going to Internet cafés, chatting online, or playing games," says VinaGame co-founder Bryan Pelz.
No one, however, is downplaying the macroeconomic problems, most of which stem from Vietnam's popularity among investors. Billions of dollars from multinationals, hedge funds, and private equity groups poured into the country last year. Rather than sell bonds to soak up those billions, as China has done, the government printed money to buy dollars, creating a wave of cash that led to a 54% increase in bank lending. That fueled a spending spree by state enterprises, while investors piled into stocks and snapped up apartments and condos. "This is a pretty serious speed bump," says Peter R. Ryder, co-chairman of Indochina Capital, which raised $500 million on the London Stock Exchange in March, 2007 for an investment fund that has since lost more than 50% of its value.
"NOWHERE TO RUN"
Vo Minh Hoang Phat hit that speed bump hard. On a recent morning the construction consultant sat staring glumly at a sea of red on the trading screen in MHB Securities, a brokerage in downtown Ho Chi Minh City. Phat says his $70,000 portfolio has lost 70% of its value since he started buying stock in developers and builders in March, 2007, near the peak of the market. "I'm stuck, and want to sell all my shares, but there is nowhere to run," says the 32-year-old.
How fast Vietnam can tame inflation and restore confidence in the stock market depends on the success of government efforts to rein in the exuberance without slowing growth. In recent weeks the central bank has hiked interest rates to 14%, from 12%, allowed the dong to fall more rapidly, and clamped down on lending at state-owned banks. The government has announced spending cuts and is starting to lift the veil of secrecy that long has shrouded its thinking on the economy. In June, Vietnam published its first-ever quarterly figures on the balance of payments, and Finance Minister Vu Van Ninh chaired a videoconference where he invited foreign investors to ask questions.
If the government makes good on its promise to administer the tough medicine the economy needs, consumer spending will likely suffer—something Ford's Pease is bracing for. Despite his optimism, he expects things to slow a bit in the second half and is keeping a tight lid on supplies to avoid being caught out if sales suddenly slump. Still, he says, "The government is doing the right things...and we remain confident in the overall economy."
Before it's here, it's on the Bloomberg Terminal.
LEARN MORE