On the Ground as the Saudi's Ramp Up
The kingdom is spending billions to drill new wellsand it wants the world to know
Stanley Reed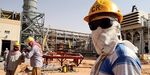 Khurais, Saudi Arabia - The Saudis are on a campaign to show the world's oil consumers that they shouldn't underestimate the desert kingdom's ability to produce enough crude, even though its output has fallen for the past two years. So after King Abdullah's June 22 confab on high energy prices in Jeddah, state-owned Saudi Aramco invited conference participants to its Khurais field in the flat red desert about 100 miles east of Riyadh. The company says the field, which is undergoing a $10 billion expansion, has some 27 billion barrels of reserves and will be able to produce 1.2 million barrels per day.
The nearest landing strip is at a remote location called Pump Station 3. From the airstrip, we drove 50 miles to Khurais. Along the road, I saw herds of black camels, scruffy truck stops, and the occasional drilling rig. At the heart of the vast operation is a structure nearly a mile long called the central processing facility, which will separate gas from the oil and pump both into pipelines. The 28,000 workers at Khurais wear protective garb from head to foot, with hoods that stick out from under their hard hats to shield them from the Arabian sun. They look like aliens in the 109-degree heat, moving about under the girders or hammering together wooden forms for pouring concrete.
Seventeen drilling rigs are working on the field. Aramco is drilling about 310 new wells here and is refurbishing 110 more. Over a lunch of Lebanese salads and a whole sheep baked in rice, project manager Khalid Abdulqader says the project will start producing on schedule, a year from now. And with half the wells now drilled, he says, it appears the field might have even greater output than expected.
Khurais is the centerpiece of a Saudi effort to lift production capacity from the current 11 million barrels per day to 12.5 million barrels daily by the end of 2009. Although they're having trouble finding enough workers and equipment, Saudi officials say they can easily manage the increase. Exploration and production chief Amin Nasser said Aramco pumps only about 2% of its total reserves in any given year, well below the global average. Says Nasser: "We will be able to develop giant fields for the foreseeable future."
Before it's here, it's on the Bloomberg Terminal.
LEARN MORE