Doctors Under the Influence?
Controversy over a Pfizer antismoking drug is fueling debate about whether patients should be told of corporate ties
By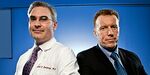 Editor's note: For a CBS Evening News report on medical conflicts that was made in collaboration with BusinessWeek, go to: www.cbsnews.com/stories/2008/06/26/eveningnews/main4213269.shtml.
In April, four experts on smoking cessation published a paper espousing an unconventional plan for helping hard-core nicotine addicts quit. They proposed treating smokers as if they have a chronic disease akin to diabetes. Such patients should take prescription drugs for years to curb tobacco cravings, the researchers advised.
The article, published in the prestigious Annals of Internal Medicine, might have slipped quietly into the vast body of antismoking literature were it not for its two closing paragraphs. There, authors Dr. Michael B. Steinberg and Dr. Jonathan Foulds disclosed that they are paid by manufacturers of smoking-cessation products for speaking and consulting. Among those companies is Pfizer (PFE), whose controversial drug Chantix the researchers mentioned favorably, along with other treatments. Use of Chantix has led to reports of suicidal thoughts and other psychiatric symptoms.
To some, the Annals paper smelled suspiciously like disease-mongering to boost pharmaceutical sales. "There's an advantage to the drug companies selling their products to smokers for a lifetime rather than for six weeks," says Adriane J. Fugh-Berman, a Georgetown University scholar who co-wrote a scathing online attack on the paper for The Hastings Center, a health-ethics research group in Garrison, N.Y. "Medicine can be a useful adjunct to quitting [cigarettes], but the goal should be quitting," she says.
The Annals paper appeared around the same time that Pfizer, at the urging of the U.S. Food & Drug Administration, was strengthening warnings on Chantix's label. This timing has fueled concern that company-paid experts are trying to protect a drug with U.S. sales of more than $680 million in 2007.
The researchers deny that. They say they follow only their independent judgment when recommending Chantix, a pill, and other drugs. They emphasize that they don't necessarily urge lifetime use of any medicine. But they don't routinely reveal their Pfizer pay to hundreds of patients they've steered to Chantix. That has thrust Steinberg and Foulds into the middle of a raging debate about proselytizing by medical researchers and how corporate relationships should be disclosed to patients. "When [Chantix] goes wrong, it can go terribly wrong," says Dr. Daniel Seidman, director of the smoking cessation clinic at Columbia University. "These guys may think [industry money] doesn't affect their opinions about the drug, but it does. When someone pays you, there's a bias." (Seidman receives no pay from manufacturers.)
Pfizer hasn't taken a formal position on whether doctors should disclose funding sources to patients. Cathryn M. Clary, vice-president for external medical affairs, says she fears too much transparency will create confusion. "The more information that's out there, the more difficult it will be for patients to process," she says. Pfizer instructs the researchers it pays to disclose their compensation when speaking at professional conferences. It also recently began disclosing grants for medical education on its Web site.
"MEDICATION IS JUST A TOOL"
The smoky-smelling clinic at the University of Medicine & Dentistry of New Jersey (UMDNJ) run by Steinberg, an internist, and Foulds, a PhD psychologist, is one of eight such centers in that state originally funded by the tobacco litigation settlements of the late 1990s. More than 500 smokers come through the clinic each year. It boasts a 30% success rate helping patients to quit for six months or more. "The goal is to get more people not smoking," Steinberg says. "The medication is just a tool to increase their chances of being successful." Adamant that his work for Pfizer and other drug companies poses no problem, he adds: "We look at the data, and we look at our own clinical experience." Both doctors stress that it's not standard practice to tell patients about potential conflicts.
Before Chantix's launch in August 2006, Steinberg and Foulds say they didn't work closely with the drug industry. They say they collected modest fees for occasional consulting for companies such as Novartis (NVS) and GlaxoSmithKline (GSK), makers of over-the-counter nicotine patches, gum, and lozenges.
Foulds is something of a celebrity in antismoking circles. Before moving to UMDNJ in 2000, he worked with the World Health Organization and launched an extensive telephone hotline for smokers seeking to quit. He has written several journal articles on drug treatment for smokers and blogs for Healthline, a consumer Web site. In 2006, Pfizer recruited Foulds to serve on its paid national advisory board for Chantix. The company also selected Foulds and Steinberg to be "key opinion leaders," sending them to talk to doctors about Chantix over fancy dinners and paying them each $900 per presentation. Foulds and Steinberg say that between them they have made a total of about a dozen appearances.
Pfizer's aggressive promotion of Chantix helped turn the drug into a sensation. The company has directed patients to a Chantix Web site via a ubiquitous TV ad campaign called "My Time to Quit." By the end of 2007, its first full year of sales, Chantix had nearly doubled the size of the U.S. market for smoking-cessation products, to $1.3 billion. Meanwhile, Pfizer gave grants to physicians who wanted to study the drug in settings beyond those examined during the approval process. Such studies could expand the medicine's potential market. Steinberg received a $30,000 grant from Pfizer in April 2007 to study the effect of Chantix on patients forced to forgo cigarettes while hospitalized for other illnesses. He says this was his first research grant from a drug company. (The Robert Wood Johnson Foundation separately provided $300,000 for the hospital study.)
FRAMING A TREATMENT
As Chantix's popularity grew, Steinberg and Foulds encountered an obstacle that helped inspire their article advocating long-term drug use. They found many insurance companies wouldn't reimburse for Chantix, which costs about $100 a month, or for other less expensive antismoking products.
Steinberg and Foulds reasoned that if they compared nicotine use with diabetes, rather than with alcoholism or other addictions, they might help change insurers' thinking. Diabetes causes many of the long-term problems that nicotine addiction does. "We wanted to compare it to a disease that's well-covered," says Foulds, "and alcoholism isn't well-covered."
Over the past decade, financial ties between doctors and companies have proliferated, prompting concern that treatment is distorted by industry money. The solution that has been widely embraced is disclosure of funding sources. But the rules are inconsistent and mostly voluntary. Moreover, disclosures typically are made in medical journals, conferences, and other venues that patients tend not to see.
On the Web site for UMDNJ's smoking clinic, it's not easy for a layman to find disclosures. There is no clearly labeled list of companies that pay Foulds and Steinberg that is directly accessible from the home page. There are links to journal articles, some of which reveal industry ties. But getting the information takes effort. The online version of the Annals article requires a viewer to have a paid subscription for full access. Their twice-a-year newsletter, The Nicotine Challenger, doesn't disclose their work for Pfizer, even in articles that speak highly of Chantix. In last winter's issue, Steinberg wrote an article called "Chantix: Miracle Pill or Dangerous Problem?" At the time, the FDA was fielding reports of severe depression in some patients who had tried the drug. Steinberg suggested that nicotine withdrawal itself can cause depression and that it made sense to "continue to use this effective medication in our general population of smokers." Foulds includes a broadly worded disclosure on his blog, but doesn't name companies for which he consults. Telling patients more about industry ties "would just puzzle them," Foulds says.
The UMDNJ tobacco experts are not alone in their call for long-term drug treatment of smokers, nor are they the only such advocates with industry ties that aren't fully transparent. A new version of the U.S. Public Health Service guidelines for treating tobacco dependence, released on May 7, urges physicians to consider prescribing drugs, including Chantix. Prepared by a panel of 24 experts, it is capped off by a five-page list of those panelists' potential conflicts. The disclosures are less than entirely forthcoming, however. The report reveals that the panel's chairman received research funds from four drug companies, but it doesn't name them. Some panelists are listed as having minimal or no conflicts even though they have acknowledged more extensive industry ties elsewhere. "Conflicts are in the eye of the beholder," says Jean Slutsky, director of the federal Center for Outcomes & Evidence, which prepared the report. "All of us come to the table with conflicts."
UMDNJ patient Cynthia Bruning says she wishes she had known that the men who run the smoking clinic had ties to Pfizer. After two years of attempting to quit with nicotine gum and patches, she tried Chantix twice, for a month at a time, with Steinberg's counsel. She had severe stomach pain, vivid dreams, and insomnia. She dropped the drug and resumed smoking. Chantix affects the same brain pathways as nicotine, damping the euphoria people feel when they take a drag. That curbs cravings but might also disturb normal brain activity.
Bruning, desperate to quit, just started Chantix for a third time. Learning that her doctors are paid by Pfizer hasn't changed her mind. But in general she believes patients should be in the loop: "I don't agree with that policy [of nondisclosure]."
Steinberg sees no need to be more forthcoming. His passion for helping people quit is fueled by treating numerous cases of high blood pressure and other problems precipitated by smoking. He emphasizes, "We've had a lot of people being very successful with Chantix."
Foulds is more reflective about the issue. His posts about Chantix on Healthline have generated a flurry of anonymous complaints, one of which described a relative's suicide after taking the drug. Foulds continues to speak to groups of doctors on behalf of Pfizer, but lately he has been pressing the company to share more information about potential side effects. "I'd like the company to take another look at the data," he says. Dr. Douglas G. Vanderburg, a senior medical director at the company, says Pfizer is reexamining nine trials of the drug and plans to publish the results in 2009.
In January and then again in May 2008, Pfizer added warnings to Chantix's label saying patients should be watched for unusual psychiatric symptoms such as suicidal thoughts. The company says in an e-mail that it sought to give doctors "more direct guidance" on using the drug.
On May 21, the Institute for Safe Medication Practices, a nonprofit group in Horsham, Pa., released a paper based on 3,063 reports of "adverse events" submitted to the FDA by people taking Chantix. Among the findings: 227 had suicidal thoughts or behaviors, and 525 said they had acted with hostility or aggression. Pfizer has sent a Chantix team on the road to speak to financial analysts and journalists. Still, some Wall Street analysts fear that the FDA will require Pfizer to add a "black box"—one of the strictest warnings that can appear on a label—to draw more attention to side effects.
Steinberg says he might revert to prescribing more patches and gum if Chantix acquires a black box. But for now he adds: "If someone is doing well for six months, and they say, 'I think if I stop [taking Chantix] I might relapse to smoking,' I would feel comfortable continuing that medication."
Join a debate about whether physicians should accept gifts from drugmakers.
Before it's here, it's on the Bloomberg Terminal.
LEARN MORE