What's to Be Done with AOL?
Sure, it gets no love from Wall Street, but potential buyers and dance partners abound
Jon Fine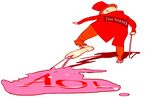 For Time Warner, AOL is the gift that keeps on giving, assuming "gift" means "that which kicks you in the shins, over and over again." As I write, Time Warner's (TWX) share price has drooped below $15. Wall Street wiseguys say this is at least partly because the market essentially values AOL at zero.
It's always been easy to hate on AOL (TWX). It's a New Media property with Old Media problems, dependent on outmoded businesses—hello, dial-up subscribers!—and in need of reinvention. (Even though AOL has had so many strategic reboots I've honestly lost count.) It's a technology company based on lousy technology. But in an ongoing mystery of modern media, it persists. It has a constellation of enormously trafficked sites ranging from AOL Sports to tmz.com. Last year AOL took in $5.2 billion in revenue and threw off $1.8 billion of cash flow. Its traffic may be stagnant, but around 110 million people still visit each month, and it remains an unquestioned giant of the Web.
What would happen to those big numbers if AOL were to sell its dial-up business (which it's mulling) is a bit unclear. A recent public filing stated: "AOL's advertising revenues associated with the AOL network [of owned and co-branded sites and applications], in large part, are generated from the activity of current and former AOL subscribers." Also, while last year's revenue was $5.2 billion, in 2006 it was $7.8 billion. Almost half of AOL's first-quarter revenues still came from the subscriber business, and ad revenue rose a measly 1%, while overall Web spending was up by double digits. In 2007, AOL's ad growth was 18%—better, but still behind overall online gains of 26%.
Still, AOL's cash flow and traffic (and its revamped ad capabilities) are worth well north of zero to similar players. The dissonance between market value and potential-buyer value gives Time Warner some flexibility in figuring out how to scrape this scab off its portfolio. Bet on something happening in the not-too-distant future. As for with whom, a quick rundown:
Microsoft
At the time of the Google deal, Microsoft (MSFT) came thisclose to creating a joint venture between AOL and its own Web assets. Two executives say a Microsoft deal almost happened at least once before then as well. Microsoft is AOL's current buyer of choice, especially since Microsoft's botched bid for Yahoo! (YHOO) drove that portal into Google's smothering embrace. Also, the pricetag for AOL is all but guaranteed to be less than one-fourth the fortysomething billion Microsoft offered for Yahoo, and as of Mar. 31, Microsoft had more than $26 billion in the bank. Wild card: Microsoft's apparent ambivalence about spending palpitation-inducing sums for media businesses.
Google
Bought 5% of AOL in December 2005 and is its longtime search partner. At the end of June, Google (GOOG) can exercise an option to sell its stake or require AOL to buy it back, but look for no change in the status quo.
Still, the search deal terminates if AOL changes hands—which might make Google play hard for AOL should other buyers swoop in. Google couldn't buy it outright, of course—if antitrust types are howling about Google's recent nonexclusive partnership with Yahoo, they'd have heart failure if Google bought AOL. So imagine a joint venture that combines AOL with some stray Google assets, with Google anteing up enough for a 49% stake—including the subscription business. How about some Google-branded, ad-supported Web access—for free?
Wild cards: Google's stated aversion to involvement in content businesses and Time Warner CEO Jeff Bewkes's likely preference for a deal that gets him the most cash, since even tax savings from a joint venture with Google probably won't get him as far as an outright deal would.
News Corp./Comcast
News Corp. (NWS) could mull a joint venture between MySpace and AOL, as it recently did with Yahoo. Comcast (CMCSA) reportedly held talks with AOL in late 2005. AOL's access business would make sense for Comcast, too. Wild cards: Wallet and will. Plus, it's hard to imagine either would play that hard.
Yahoo
So many execs are splitting that there may not be enough left to make a deal. Yahoo! Japan, though, is a whole 'nother thing. It has Google-esque dominance of a massive market, and its biggest owner is SoftBank Capital, not Yahoo. Partnership and deal talks among the online Big Four in the U.S.—Google, AOL, Microsoft, and Yahoo—have been constant for years. But the big Web players are thinking multinationally these days—witness AOL's purchase of European social-networking site Bebo—and the yen is now a hell of a lot stronger than the dollar.
If SoftBank and Yahoo Japan dared to chance going global, this would be as good and as cheap a shot as they'll get. Wild card: I was going to say the long flights between multiple company headquarters. But every time I see Sony (SNE) CEO Howard Stringer, he looks remarkably well-rested.
Reinvention
AOL recently opened its popular instant-messaging service to third parties. Why not open its entire platform to developers, the way Facebook and MySpace have? Facebook ignited a universe of fledgling applications businesses with a fraction of AOL's traffic. Letting others do the actual inventing could be the last best chance for Time Warner to create a new and better AOL, and thus drive more traffic and business.
Wild cards: No one would begrudge Time Warner if it lacked the patience for yet another strategy shift for AOL. And doing this would require Bewkes to let AOL depress Time Warner's stock for even longer, which would be a problem. Like AOL itself.
Before it's here, it's on the Bloomberg Terminal.
LEARN MORE