Kerkorian May Fill Ford's Tank
The minority stakeholder is poised to help the ailing automaker raise billions for a restructuring
By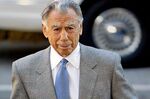 The last time billionaire Kirk Kerkorian knocked on Detroit's door, he tried to force General Motors (GM) into an alliance with Renault-Nissan—an idea that won him no friends in GM's executive suite. In recent months, the 91-year-old has spent $800 million amassing a 6.5% stake in Ford Motor (F). And this time, the reclusive activist investor actually may be welcome.
Over the next few years, Ford, facing slumping sales and planning yet another restructuring, is expected to start burning through its cash. While it now has $29 billion on hand, it could wind up with a dangerously thin cushion in a few years. Ford insiders say Kerkorian may be willing to invest a few billion dollars in the company if it needs cash.
On June 18 several top Ford executives, including Chairman William C. Ford Jr. and CEO Alan Mulally, went to see Kerkorian at his Las Vegas base. After meeting with him and his chief adviser, former Chrysler Chief Financial Officer Jerome B. York, Mulally emerged waxing enthusiastic. "I've hardly met two people more supportive of what we are doing," he told BusinessWeek. Despite some unexpected bumps at Ford, York has said he's impressed with how Mulally has cut costs, slashed production, and focused the business—moves that have generated better profits. Of course, if the carmaker's recovery plan falters and the two sides disagree on what to do next, Kerkorian could change his tune.
Kerkorian, as it happens, is not Ford's only lifeline. The company has $12 billion in credit lines, although tapping them, says Gimme Credit analyst Shelly Lombard, would send "a desperate signal" to Wall Street. And one Detroit executive with ties to the Ford family says Goldman Sachs (GS), banker to the company and the family, could buttress Ford with a "friendly" equity position of several billion dollars. (Goldman declined to comment.)
How this all plays out depends on American car and truck sales. If they pick up substantially by 2011, Ford could quickly benefit from its epic cost-cutting—and generate a sweet return for Kerkorian.
Before it's here, it's on the Bloomberg Terminal.
LEARN MORE