A China Lifeline for Taiwan's Airlines?
Beijing and Taipei's emerging political thaw gives hope to hurting Taiwanese carriers. Weekend charters are coming; are direct flights next?
by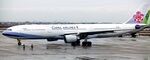 Like other airlines around the world socked by high oil prices (BusinessWeek.com, 5/28/08), Taiwan's carriers have resorted to drastic measures to stanch their red ink. The island's two biggest airlines, China Airlines and EVA Airways, have raised surcharges on international routes and are cutting unprofitable flights to Europe and the U.S. China Airlines lost $84 million last year and lost another $98 million in the first quarter of 2008, while EVA lost $62 million in 2007 and $75 million in Q1 this year.
All the more reason, then, that the Taiwanese are hopeful about the political thaw now emerging between Beijing and Taipei. Although Taiwanese businesses have invested billions of dollars in China and economic ties between the mainland and Taiwan continue to grow, the island's airlines don't have permission to fly directly across the Taiwan Strait and can only fly charters for special occasions such as Chinese New Year via a third jurisdiction, usually Hong Kong. (The former British colony is a Special Administrative Region of China, giving it special status for the Taiwanese government.)
That's created a bonanza for Hong Kong's Cathay Pacific and its subsidiary Dragonair, which unlike their Taiwanese or mainland rivals, have permission to fly regularly scheduled commercial flights to both sides of the Taiwan Strait. The Taipei Airline Association estimates that over the past decade, Taiwan's airlines have lost $33 billion because of the restriction against direct flights.
Gearing Up for Weekend Charters
The Taiwanese airlines' handicap, however, may finally be coming to an end. On June 23, China Airlines made a move toward ending its isolation on the mainland as the Taiwanese carrier's chairman, Ringo K.S. Chao, signed a memorandum of understanding in the southern Chinese city of Guangzhou with China Southern Airlines Chairman Shao-Yong Liu to boost cooperation between the two companies. Although the airlines have not released details of the partnership, they "will represent each other's businesses in passenger, cargo, maintenance, and ground handling operations," China Airlines said in a statement on its Web site. "Meanwhile, China Southern will support China Airlines as it seeks to join the SkyTeam alliance."
China Airlines' partnership with China Southern is the latest sign of an upheaval about to hit China and Taiwan's aviation industries. Starting July 4, carriers from Taiwan and the mainland will be able to fly weekend charter flights across the strait. Initially, airlines will be allowed to fly a total of 36 flights between five Chinese cities and eight Taiwanese cities from Friday to Monday. Like the chartered flights currently flown during traditional Chinese holidays, the weekend flights must also first fly through Hong Kong airspace.
However, optimists believe the agreement paves the way for full-fledged direct flights by the end of 2009. "We should negotiate as quickly as possible direct flight routes and establishing air control procedures for direct flights," Yu Fang Lai, vice-minister of Taiwan's Ministry of Transportation and Communications, told journalists in Beijing on June 13, when the two sides announced the July 4 start date for the weekend charters. Says Tony Fan, chairman of the Taipei Airlines Association: "Everybody on both sides hopes that an agreement on direct flights can come to fruition."
Political Progress
The main impetus for this breakthrough was the new political situation in Taiwan (BusinessWeek.com, 4/14/08). For the past eight years, Beijing shunned the government of then-President Chen Shui-bian, who advocated Taiwan independence. Ma Ying-jeou, the opposition leader who became Taiwan's new president May 20, pledged to improve ties with the mainland during his campaign. Both sides are now willing to sit down and negotiate ways to closer integrate Taiwan's and China's economies.
However, a secondary factor is pushing negotiators to reach an agreement sooner rather than later: high oil prices, which are hammering both Taiwanese and mainland Chinese airlines. "Oil prices are on everybody's minds," said Yu.
Indeed, with oil prices at more than $130 a barrel, improved cross-strait ties can't come fast enough for Taiwan's carriers. Direct flights would shorten flight times and allow airlines to avoid taking the detour through Hong Kong airspace. Morgan Stanley (MS) estimates that airlines could save at least 70% on jet fuel costs per trip. "If they can do direct links, it mitigates the loss that they would have otherwise," says Chin Lim, an aviation analyst with Morgan Stanley. Lim is forecasting that China Airlines will see a net loss of $73.5 million on total revenues of $4.5 billion this year and EVA Airways will have a net loss of $90.9 million on total revenues of $3.3 billion. But, if oil prices come down and Taiwan and China go through with direct flights, there's a possibility that Taiwan's airlines can return to profitability for 2009, he says.
Cutting Long-Haul Routes
The weekend chartered flights—which still need to fly over Hong Kong—won't do much to help airlines on either side of the Taiwan Strait return to a profit in the short term. But they have provided investors with a reason for optimism. Although Cathay's shares have slumped 25% this year, China Airlines' Taipei-listed shares are down just 5% on the year and EVA's shares are up 9.6%. EVA's rise reflects investor confidence that it is the best positioned airline to benefit from direct links, particularly in the cargo business.
But companies are still hopeful. Taiwanese airlines that have been flying chartered flights on Chinese New Year say the flights are profitable, even with the detour through Hong Kong airspace, and Beijing has agreed to open five more Chinese cities to chartered flights as well as double the number of cross-strait flights to 72 a week after the Olympics. Both sides also plan to hold further talks about increasing the frequency of chartered flights and direct cargo flights within the next three months. In the meantime, experts will get started on resolving the technical issues of setting up direct flights.
China Airlines and EVA are getting ready, making plans to redeploy planes from unprofitable long-haul routes. China Airlines is cutting 150 flights, 10% of its total, in the second half, which will save the airline an estimated $6.6 million a month. By yearend, EVA will eliminate 80 to 90 flights, or 5% of its total. "We can use those airplanes to fly to Beijing, fly to Shanghai, fly to destinations on the mainland," says Katherine Ko, spokeswoman for EVA Airways.
Oil Subsidies Soften the Blow
Liberalization of cross-strait aviation will also benefit mainland Chinese airlines, but not nearly as much as their Taiwanese counterparts. HSBC (HBC) estimates that weekend charter flights will only account for 1% of Air China, China Eastern (CEA), and China Southern's (ZNH) total revenues. These three Chinese airlines' revenues could rise by 3% to 4% eventually, assuming that chartered flights are expanded to four trips a day. However, any gains are likely to be offset by cancellation of routes to Hong Kong and Macau.
But then again, most Chinese airlines are not suffering as much as other airlines around the world because the state keeps fuel costs artificially low with subsidies. The country's largest airline, Air China, even managed to buck the global trend and report a profit of $149 million in the first quarter. The Chinese government has spent an estimated $31.9 billion, or 0.9% of gross domestic product, to keep China's oil prices half as low as oil prices on international markets before it hiked up aviation fuel prices 25% June 19.
Before it's here, it's on the Bloomberg Terminal.
LEARN MORE