A China Lifeline for Taiwan's Airlines?
Beijing and Taipei's emerging political thaw gives hope to hurting Taiwanese carriers. Weekend charters are coming; are direct flights next?
By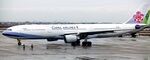 Like other airlines around the world socked by high oil prices (BusinessWeek.com, 5/28/08), Taiwan's carriers have resorted to drastic measures to stanch their red ink. The island's two biggest airlines, China Airlines and EVA Airways, have raised surcharges on international routes and are cutting unprofitable flights to Europe and the U.S. China Airlines lost $84 million last year and lost another $98 million in the first quarter of 2008, while EVA lost $62 million in 2007 and $75 million in Q1 this year.