The Birth of Venture Capital
Georges Doriot, the father of venture capital, receives a long-overdue appreciation in Creative Capital
Marilyn Harris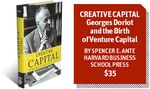 Creative Capital:Georges Doriot and theBirth of Venture Capital
By Spencer E. AnteHarvard Business School Press, $35
It may seem unlikely that the venture capital industry owes its existence to one seminal figure, but in Creative Capital: Georges Doriot and the Birth of Venture Capital, Spencer Ante, a BusinessWeek editor, makes a persuasive case for his subject's enormous influence.
Georges Doriot, born in Paris in 1899, got his passion for startups from his father, a former Peugeot manager who launched his own automobile company. From his father's experience, Doriot "learned the values of mutual aid and cooperation, values that helped him unite people in constructive action," writes Ante. That lesson would later help him create his own company and nurture many others.
In 1921, Doriot became the first French student at Harvard Business School. What followed over the next 50 years was a hat trick: a run as one of the most popular professors at Harvard, a longtime relationship with the U.S. military, and the founding of the first true venture capital firm, American Research & Development Corp. (ARD). With the notable exception of his 48-year marriage, Doriot's work was his life.
Doriot's relationship with the military paid terrific dividends. His job was to assess what soldiers needed, then mobilize to produce it. In so doing, he "perfected the art of finding the right people for the right technical challenge and then inspiring them to invent the future," Ante writes.
The success of ARD forms the arc of Ante's narrative. After ARD went public, Doriot spent years battling with the U.S. Securities & Exchange Commission and other regulators. Chief among the "mind-numbing rash of issues," as the author accurately describes it, were conflict-of-interest concerns between ARD and its portfolio companies, and compensation issues.
ARD's most successful investment was Ken Olsen's Digital Equipment. In 1957, ARD provided Digital with $70,000 in equity plus a $30,000 loan in return for 70% of the company. When Digital went public nine years later, ARD's stake was worth $38.5 million. Digital "single-handedly prov[ed] that venture capitalists could generate enormous wealth by backing the leader of a hot new business," Ante writes.
ARD, however, found it increasingly difficult to attract employees, largely because of the limitations on options grants and compensation arrangements it faced as a public company. Doriot, as he neared 70, was also criticized for having failed to put a succession plan in place. In 1972, ARD entered into a merger with Rhode Island conglomerate Textron, whose electronics subsidiary had been an ARD investment. It was an unhappy arrangement that spelled ARD's decline. In this telling biography, Ante restores the pioneering venture capital firm, and its founder, to their proper places.
Back to BWSmallBiz June/July 2008 Table of Contents
Before it's here, it's on the Bloomberg Terminal.
LEARN MORE