SBA 7(a) Loans Drop 18%
The SBA's flagship 7(a) loan program sustains a dramatic drop in loan volume
Jeremy Quittner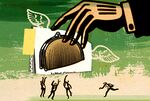 In April, Wendy Kobler was looking for $50,000 to expand her two-person, $250,000 Huntsville (Ala.) marketing and consulting company, Kobler Communications. She needed the money in time to enroll in classes for a coaching certification, so she applied for a Small Business Administration (SBA) Express Loan through Redstone Federal Credit Union.
The Express loan didn't live up to its name. Kobler was No. 19 on the list of would-be borrowers. The credit union's representative told her that thanks to a deluge of applicants, the backlog was one of the biggest he'd seen. Kobler was told she'd have to wait 10 days, not the 36 hours the credit union publicizes in its marketing materials. Kobler says the loan officer scrutinized three years' worth of her personal and business finances and asked a lot of questions about her net worth, including the value of her home. "The loan processor was looking at anything he felt could pay back the loan," she says.
Kobler's experience is no longer unusual—and she's one of the lucky ones who actually managed to get financing. Tightening credit markets, declining home values, and a bumpy economy have claimed a new casualty: the SBA 7(a) loan. The SBA backed about 40,000 of its flagship 7(a) loans in the quarter ended Mar. 31, down 18% from the same quarter in 2007.
Veterans and rural entrepreneurs have been particularly hard hit, with loans to those groups down 20%, and 27%, respectively. Express loans, a popular subset of 7(a) loans that are easier to originate but carry a lower government guarantee, are down 30%.
BANKS ARE BAILING
The drop in 7(a) loans concerns entrepreneurs, lenders, and industry experts who say the program is meant to kick in during an economic downturn. Other ominous signs include the departure of more than 368 banks from the 7(a) program since 2006 and new fees that decrease the program's profitability for lenders. "When economic times are tight, government-backed loans are supposed to fill the gap," said Senator John Kerry (D-Mass.), chairman of the Senate Committee on Small Business and Entrepreneurship, in a written statement.
Tony Wilkinson, president and CEO of the National Association of Government Guaranteed Lenders (NAGGL), a trade association representing banks that issue SBA-guaranteed loans, agrees. "We should be seeing more volume than we are today, and the SBA is not taking any action to facilitate other loan activity," he says. In addition to high fees, Wilkinson says decreasing property values have eliminated the home equity used either to start businesses or to collateralize loans, further contributing to the falloff in volume.
The SBA blames the decline on the poor economy, weakening demand from entrepreneurs, and a tepid secondary market facing bankers wishing to resell the loans. Eric Zarnikow, associate administrator for capital access at the SBA, says banks got lax in their lending, then began ratcheting up their credit quality requirements this fall, even as less creditworthy candidates began applying for loans. "When we talk to lenders they say they have plenty of money to lend and the marketplace is very competitive," he says.
The SBA's experience seems to be in line with the wider market for commercial loans. In the Federal Reserve's April Senior Loan Officer Opinion Survey on Bank Lending Practices, 55% of domestic banks reported tightening credit standards for commercial and industrial loans, up from 30% in January. About 15% of large banks reported weakening demand for commercial loans from small businesses over the same period. Meanwhile, delinquencies are rising: Nonperforming loans in the 7(a) portfolio have increased more than 50%, to 2.39% as of February, 2008.
Zarnikow says the steep decline in Express loans skewed results for the entire portfolio. Dollar volume for the 7(a) program fell only 9% in the second quarter. A pilot loan program called Community Express, meant to address the needs of rural low- and moderate-income business owners, may actually have helped 7(a) volume a tiny bit. Those loans, for a maximum of $250,000, each grew 37% to about 5,000 loans in the second quarter.
Dollar volume grew 28%, to $126 million over the same period.
SBA loans, like mortgages, are frequently sold on the secondary market, but banks have had trouble doing that lately. Because the federal government backs these loans, they had been commanding a premium of up to 10%. The premiums have now fallen to about 5%, says Zarnikow.
SHRINKING PORTFOLIOS
Certainly some of the top bank lenders have experienced a huge falloff in the number of loans. Bank of America, the leading 7(a) lender in 2007, saw volume drop 44%, to 2,817 loans, in the quarter ended Mar. 31, according to SBA data. Dollar volume dropped nearly 40%, to $86.6 million. Tara Burke, a Bank of America spokeswoman, says the dropoff is linked to the general economic situation. "We remain a fully committed and active participant in the SBA Express and SBA Patriot Express programs," she says, adding that the bank continues to lend to creditworthy customers. Volume at Capital One Financial, the third-largest lender in 2007, dropped 53%, according to NAGGL. Capital One did not return calls for comment.
While US Bank saw loan volume decline about 18%, it says dollar volume actually increased 8%, to about $250million. Erik Daniels, national sales manager of the Minneapolis-based SBA division for US Bank, says the SBA's portfolio oversight fees are partly to blame for the general dropoff. The SBA levies these fees, primarily instituted in 2007, for audits of individual lender's portfolios. "That ultimately increases the cost to everybody, from the lender to the small business," says Daniels.
Small banks in particular say the oversight fees can make the loans less profitable and lead bankers to question whether they should continue in the 7(a) program. "We are in a wait-and-see mode," says Tim Metz, vice-president of loan operations for Douglas County Bank in Lawrence, Kan., the state's third-largest SBA lender by number of loans. Douglas County Bank, with about $250 million in assets, typically makes about 28 7(a) loans a year. Oversight fees on such a portfolio could run as high as $26,000, says Metz. The SBA says fixed costs for an audit, which it says are typically reserved for banks with portfolios in excess of $10 million, can run $16,000 to $19,000, in addition to variable fees.
The prospect of even more banks leaving the program worries Kobler and other entrepreneurs who depend on the SBA's government-backed loans. Says Kobler: "During rough economic times, people need these [loans] to jump-start their businesses."
Back to BWSmallBiz June/July 2008 Table of Contents
Before it's here, it's on the Bloomberg Terminal.
LEARN MORE