Entrepreneurs Reinvent the Funeral Industry
Traditionalists scoff at them. But these outsiders are revolutionizing one of the world's oldest professions
Amy S. Choi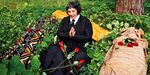 These trailblazers come from all sorts of businesses—automotive, design, technology—unburdened by the conventions of their new industry. They introduce products some consider shocking. Traditionalists scoff at them. But these outsiders are revolutionizing one of the world's oldest professions: the funeral industry.
It's a good time to deal in death. The first baby boomers are entering their mid-60s, and the death rate in the U.S. is expected to rise from 8.1 people per thousand in 2006 to 9.3 in 2020, according to the National Center for Health Statistics. Yet the traditional funeral industry is hardly healthy: The Federated Funeral Directors of America, an accounting firm for independently owned funeral homes, found that in the past 20 years, its clients' profit margins have been cut nearly in half. Some 44% of funeral home directors, up from 28% in 2006, blame the increasing popularity of cremations and alternative burials for sinking profits, according to consulting firm Citrin Cooperman. Some funeral homes have responded by offering themed funerals, such as backyard barbecues, while others diversify by hosting weddings and other events.
Yet the $11 billion industry has been slow to change, with multi-generational family and private companies commanding 89% of the business. A few major vertical corporations, which control everything from choice in caskets to burial services, and often provide products to small mom-and-pops, make up the rest.
Enter the entrepreneurs. Clint Mytych, founder and CEO of Eternal Image (ETIM), was running a luxury car rental company in 2002 when it dawned on him that he'd like a car-themed funeral, and a casket shaped like a 1967 Ford Mustang (F). But not only could Mytych not find his Mustang casket, he didn't find anything that he thought had any personality at all. "I mean, nobody says, I am so excited about the Batesville #22 casket' because it's made of their favorite wood," says Mytych. He saw an opportunity in idiosyncratic funeral products that would reflect the customer's personal taste. In 2006 his Farmington Hills (Mich.)-based company introduced the country's first licensed urn—a twisted bronze spire topped with a cross, licensed from the Vatican Library Collection. Mytych has since signed licensing agreements with the American Kennel Club, Major League Baseball, more than a dozen universities, and most recently, CBS Corp., for the rights to the Star Trek brand. His urns cost about $800, compared with $3,000 for a traditional marble one.
Selling to funeral homes wasn't easy. "In the beginning, one of the major players patted us on the head and said, Good luck, but our caskets and urns are the only ones used in the industry,'" says Mytych. Not anymore. Eternal Image, with 10 employees, hit $600,000 in sales in 2007, and several funeral companies have approached Mytych about partnerships.
For Esmerelda Kent, the dive into death began with the HBO show Six Feet Under. Fascinated by the funeral business and inspired by the show, the costume designer started an apprenticeship in 2004 at Forever Fernwood, a cemetery in Mill Valley, Calif., that focuses on sustainable burial practices. In keeping with its green goals, Forever Fernwood was burying people in shrouds. "It was a really cumbersome and ridiculous process," says Kent. "We had no idea what we were doing with these long pieces of cloth, and it was really undignified trying to lower the shrouds into the ground." So in 2005 she started San Francisco-based Kinkaraco Green Burial Shrouds, a collection of more practical shrouds with thoughtful touches such as pockets for mementos and a stiff backboard and handles. Kent's next project is a line of high-end shrouds—"mort couture," she deadpans. She had a warm reception at a recent industry convention, and rang up about $30,000 in sales last year. But Kent says change is barely crawling along. "This is the last industry to be dragged kicking and screaming into the 21st century," she says. "Myself and others like me are completely reinventing the business."
John Carmon, past president and spokesperson for the National Funeral Directors Assn., agrees that the industry has to be more forward-thinking, at least in terms of technology and personalized service. But he doesn't think the newcomers are going to bring any sort of radical change. "You won't see most families shooting cremains in the air," he says. "Cremains" is industry-speak for cremated remains,' and yes, Angels Flight of Castaic, Calif., founded in 1996, will happily disperse yours via one of its fireworks displays.
Regardless of what the Old Guard thinks of them, entrepreneurs are happy reshaping the industry from the outside in. Says Mytych: "No matter how hard a funeral director might put his foot down and think that a Star Trek casket or whatever is tacky, the fact is, the public likes it."
Back to BWSmallBiz June/July 2008 Table of Contents
Before it's here, it's on the Bloomberg Terminal.
LEARN MORE