Cyndee Sugra Rocks Out with Studio7
Cyndee Sugra Rocks Out with Studio7
As Told To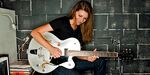 I was never a full-on rocker chick. I grew up in Orange County. I was a good girl, got good grades, and studied concert piano at an early age. But I loved hard rock. When I was in high school, all the boys wanted me in their bands because I was the only person who could play Metallica songs on the guitar. At 16, I got a record deal with Xemu Records as part of an all-girl band, Baby Alive, which was a cross between the Go Go Girls and Smashing Pumpkins. I left the band after a few years, but music is still a big part of my life. I'm working on releasing an album later this summer that is really techy, part electronica, part rock. I'm recording in my own studio and starting my own label. I've started two companies now and I realize that it's not a big deal to do it on my own. The only limitations I have are the ones I set on myself.
Back to BWSmallBiz June/July 2008 Table of Contents
Before it's here, it's on the Bloomberg Terminal.
LEARN MORE