When Builders Go Broke
Chicago-based Neumann Homes went bankrupt last November, leaving a trail of wreckage in its path. Its worst victims? Homeowners
Judith Crown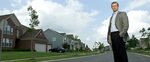 When Patrick and Betty Ann Wagner moved 50 miles from Chicago's Northwest Side to suburban Antioch, Ill., a year ago, they figured their five kids would delight in the three swimming pools and sand volleyball court of their new subdivision's community center. Sitting at a large pine table in the kitchen of their four-bedroom home, Patrick opens a glossy map. "This is where they said the clubhouse would be," he jabs at the paper. But the rec center is just an open pit, and their neighborhood is eerily quiet. Across the street, two homes are still swathed in housewrap behind mounds of dirt; two others are finished but empty, with "For Sale" signs in front.
Welcome to Clublands, a 600-acre development conceived by Neumann Homes, which in 2004 had plans to build as many as 950 homes selling for $300,000 and $400,000 in this suburb less than a mile from the Wisconsin border. But it never happened, and probably never will. Today the Warrenville (Ill.), company, once ranked the 35th-largest homebuilder in the nation, is bankrupt. A court-approved auction is liquidating all its property. Among the assets on the block are two-thirds of the Clublands sites that were never sold—and the tract for that promised clubhouse.
Bankrupt Builders
Despite sales of $518 million in 2005, Neumann is one more casualty of the national housing bust that has driven hundreds of thousands of homeowners into foreclosure, shaken the foundations of America's biggest banks, and knocked the entire economy for a loop. At least a half-dozen homebuilders have filed for bankruptcy in the past several months. They include Levitt & Sons, the famed builder that created Levittown, the archetype for suburban planned communities, on New York's Long Island; Tousa of Hollywood, Fla.; and Kimball Hall, a suburban Chicago outfit.
Although the major publicly traded builders are all still operating, industry leaders DH Horton (DHI), Pulte Homes (PHM), Lennar (LEN), and Centex (CTX) are losing money, too. Any turnaround seems far off. On June 17, the government reported that home starts in May fell 32% from a year earlier. Builders, buyers, and investors will get their next take on the market on June 25, when the government reports new home sales for May; they're expected to be down 43% year-over-year.
The fact that so many other homebuilders are struggling provides little comfort to Neumann's creditors, who may never get their money back, subcontractors forced under by the failure of their biggest client, villages like Antioch that can no longer bank on property taxes from Neumann developments, or home buyers who had hoped for a suburban community and instead find themselves in limbo. Wagner, a 39-year-old electrician, feels burned. "This is one of the worst experiences of my life," he sighs.
Neumann's Dream
The man in many ways responsible for the situation in which Wagner and many other frustrated homeowners find themselves is Kenneth P. Neumann. A mining engineer and sometime outdoorsman from Wisconsin, Neumann, now 51, started his eponymous company in 1992. Within two years, he had made a name for himself by building starter homes in outlying suburbs with amenities such as recreation centers and pools. Intense and hard-driving, Neumann had visions of becoming the biggest homebuilder in the U.S.
During the housing boom of the 2000s, lenders were only too happy to encourage him. Neumann Homes went from erecting 300 homes a year to 1,900 at the peak of the market. Yet Neumann pursued his dream so relentlessly that he was blind to the risk of borrowing more than he could handle if the residential market turned south. He bought up too much farmland at bubble prices, and in 2005 took over a Detroit builder, Tadian Brothers, just as that market began cratering. Inadvertently, Neumann laid the groundwork for his eventual fall by cross-collaterizing his projects with multiple lenders, so that his bad bet in Detroit could bring down the whole enterprise.
Even after the signs of trouble in 2005, Neumann carried on for two more years, hoping for a reprieve. Markets other markets than Detroit had turned sour, too. Suburban Chicago home sales plunged 26% in 2006, to 19,034, and a staggering 40% last year, to 11,387.
Crash and Burn
By 2006 rumors were circulating that Neumann Homes was for sale or on the verge of bankruptcy, fueled in part by its auction of 1,000 acres in Chicago's farthest suburbs. At Minuteman Press in Naperville, Ill., owner Ray Kinney watched his receivables from Neumann stretch from 60 to 90 and then 120 days. He had been running his shop 24 hours a day for the builder, printing brochures and business cards. But Kinney finally had to say no. "We didn't get paid," he would tell Neumann employees coming in to place orders. "We can't pay you," they'd reply.
To keep from going under, Neumann sold more land and laid off more workers, reducing staff from 324 at yearend 2006 to 100 on the eve of the company's bankruptcy filing 11 months later. But the company's 22 active projects were pledged to eight senior lenders—including Bank of America (BAC), Cole Taylor, and First Midwest Bank—under 12 separate credit facilities. Neumann Homes had virtually no equity left. "Virtually everything was encumbered," says Jonathan P. Friedland, an attorney who represented trade creditors while at Schiff Hardin.
Neumann had waited too long. Last November the man whose goal was to become the nation's No. 1 homebuilder by 2020 finally capitulated and took his company into Chapter 11 bankruptcy. Neumann Homes was broke. It owed $286.9 million. The Tadian purchase had sucked out the $88 million in equity that Neumann had in the business. Agreeing to a recourse loan on the Detroit acquisition was a fatal mistake, he says today. And in retrospect, placing his company in bankruptcy protection much earlier, when he still had cash, might have saved the business. So why didn't he act sooner? "To me," he answers, "bankrupt meant that you don't have any money."
The Aftermath
The bankruptcy hasn't been contentious, as these cases go. Neumann Homes technically is in Chapter 11 bankruptcy, a status that usually results in a financial and business reorganization that permits the company to emerge as an ongoing outfit. But the company is effectively in liquidation, with no plan for resurrection. As one attorney describes the bankruptcy courtroom proceeding, "It was just the scene of the funeral."
Some homes and land have been turned over to lenders, who will hire builders and real estate agents to complete and market the properties. In exchange, the lenders agreed to reduce their claims by $20 million. Hilco Real Estate is auctioning off Neumann's remaining 20 projects in Illinois, Michigan, and Colorado, covering 2,000 home sites and 2,800 acres of open land. If there are takers, banks will get some cash back—albeit much less than they lent, reflecting the steep decline in land values. It's also possible the bids will be so low that lenders will reject them and take back the land.
Lienholders, or secured lenders with a right to foreclose on a property, are expected to negotiate with lenders for their payback. As for unsecured creditors, their only hope is that the properties fetch so much at auction that there'll be money left over for them after the secured creditors get theirs. It's possible they won't see a dime.
Holding the Bag
Back in Antioch, residents weathered a rough winter. The village agreed to plow the streets, but there was debris everywhere when the snow melted, says Lisa Curtain, an empty-nester who moved to NeuHaven from Kenosha, Wis., in October, 2006. Curtain, the director of operations for a company that runs student trips, says she couldn't stand looking at the mess anymore, so she spent a Saturday in April collecting 21 bags of garbage. She then paid $60 to have them carted away.
Will Martino, who heads the NeuHaven homeowners association, frets that a park with a Little League-sized ballfield, a soccer field, and a tennis court will never get built. "That's why we moved here," says Martino, whose two boys were still both in diapers. The park site is right outside his front door, which would make it convenient for him to watch his kids play there. The nearest ballfield is now two miles away.
Neumann says he is through with home building, since it could take years for the market to recover. Once his affairs are settled, he says, he is looking for business opportunities in clean energy. But the people who bought his homes are still stuck.
Click here to see America's biggest homebuilders with the biggest losses.
–With Maggie Gilmour in Antioch, Ill
Before it's here, it's on the Bloomberg Terminal.
LEARN MORE