Trucker Hats, Tattoos, and Madonna
Christian Audigier, the force behind the Ed Hardy and Von Dutch fashion lines, knows how to get his designs noticed and worn by superstars
Christopher Palmeri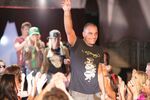 Christian Audigier's office is a monument to pop culture. The 3,000-square-foot space in the Culver City section of Los Angeles contains two pinball machines, two motorcycles, and large statues of Superman, Batman, and Spider-Man. There is no desk or computer. When it's time to talk business, the 50-year-old clothing designer plops down on a sofa and fires up a Marlboro Light. Then he waits for the most eagerly anticipated news of the day—which celebrities have been wearing his clothes. "This is Madonna today," Audigier says gleefully, as an assistant hands him a photograph from a celebrity Web site of the singer slipping into a car in a pair of Audigier's black Ed Hardy "lounge pants" with skulls on them.
In style-crazy Los Angeles, Audigier has one of the hottest hands. Over the past six years he has helped build two brands into fashion phenomena: Von Dutch and now Ed Hardy. And both times he has done it with the same formula: Take a counterculture design figure and turn him into a clothing line coveted—and worn—by celebrities and cool young people.
Artworks by icons such as Andy Warhol and Keith Haring have become huge licensing businesses, but they were world-famous artists first. Audigier has managed to take two defiantly left-field figures and make their work mainstream. "He's riding that classic Americana tattooed biker look like nobody else," says Josh Levine, whose Rebel Organization specializes in marketing upstart brands.
The Von Dutch Trucker Hat
Audigier may have a keen eye for Americana, yet he grew up in France, where he says he was a huge fan of the leather jacket and jeans look of movie stars such as Marlon Brando and James Dean. After kicking around at various fashion labels including Diesel jeans, he landed a job in 2002 as chief designer at Von Dutch.
At the time, the business was a startup clothing line that had licensed the name of Kenneth Howard, a custom-car painter who died in 1992 and who worked under the name Von Dutch. Audigier took Von Dutch's signature, blew it up on the front of a mesh cap, and handed the caps out to a current generation of hot young stars including Ashton Kutcher and Britney Spears. His $48 "trucker hats" became a fashion craze which Audigier denies is over. "I still sell 1,000 hats a week," he says. "It's become a wardrobe staple."
Audigier left Von Dutch in 2004 in a dispute (since settled) over money with the company's owner, according to court documents filed in Los Angeles.
Tattoo T-Shirts and Sequined Hoodies
Out on his own, Audigier searched for new ideas. Seeing the popularity of tattoos, he says he Googled the words "famous tattoo artist." One of the names that popped up was Don Ed Hardy, a 63-year-old art school graduate who had gained a cult following drawing colorful tattoos featuring dragons, hearts, flowers, and skulls. Hardy has his work shown from time to time in galleries, and he owns a small publisher of tattoo-art books. But he mostly lived quietly in Hawaii and San Francisco, where he has operated a tattoo parlor, Tattoo City, since the 1970s.
Audigier licensed the artist's vintage designs, shortened his name to Ed Hardy, and created another signature item, a $92 long-sleeved T-shirt decorated with Hardy's ink drawings. That's a lot of money for a piece of clothing that can cost just a few dollars to make, but Audigier seems to have judged the market well. He sold the clothes at boutiques such as Fred Segal in Los Angeles, where his success with the Von Dutch line opened doors. He has since landed much larger accounts such as Macy's (M) and has expanded the line to include items like $200 sequined hooded sweatshirts and jeans.
With no prompting, Audigier escorts a visitor through his two-story warehouse plastered with photos of celebrities wearing his shirts, jeans, and hats—everyone from Paris Hilton to Larry King to some names Audigier can't quite remember. "Mayor, Mayor…," he says. "Bill Maher," an assistant reminds. There's a whole Madonna wall—70 candid shots of the pop star in his clothes, all taken by paparazzi on different days in the past year. "It's very simple," Audigier says, explaining his celebrity-based marketing strategy. "You send Britney a box. Minutes later.…." He taps a photo of Spears. And it's not just the celebrities and their stylists who get free clothes. Audigier sends samples out to anyone who comes in contact with them— doormen, chauffeurs, even the paparazzi themselves.
Million-Dollar Licensing Fees
Perhaps realizing from his Von Dutch experience that hot fashion labels often have a short shelf life, Audigier has been re-licensing the Ed Hardy designs to manufacturers of everything from air fresheners to energy drinks. Sales for the privately held company topped $114 million last year, according to Audigier. That was nearly twice what he had originally forecast. He has opened more than a dozen stores in trendy neighborhoods from New York to Los Angeles.
For his part, Hardy, who now gets licensing fees likely in the millions of dollars, told the San Francisco Chronicle in 2006 that he initially had reservations about doing business with Audigier. This was after embarking on his own Google research and seeing photos of the flamboyant designer cavorting with celebrities at "some secret location." Hardy told the paper that he called one of his associates and said: "This guy is at ground zero of everything that's wrong with contemporary civilization. However, if he wants to make a lot of money with my art, and it's not going to be overtly negative, then what the hell."
After years of trying to promote tattooing as fine art, Hardy says he's happy his trade has entered the mainstream. Through a separate relationship with another company, Ku Ambiance, Hardy has been creating high-end pieces of art, including Japanese vases, screens, and porcelain plates that features his designs and sell for thousands of dollars. But he finds the results of Audigier's work almost everywhere. "I see young girls walking down the street wearing designs I tattooed on Marines 20 years ago," Hardy says, clearly amazed by it all.
Before it's here, it's on the Bloomberg Terminal.
LEARN MORE