Should You Bet the Farm on Ag Stocks?
As food prices soar, shares of many agricultural outfits have gotten pricey, too. For now, best bets may be fertilizer and seed producers
David Bogoslaw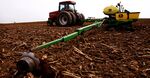 The devastating floods that have wiped out millions of acres of corn and soybean crops in the Midwest have sent prices for those commodities soaring in the last couple of weeks. An estimated 5% to 10% of the U.S. corn and soybean crops could be lost because of floods: By the time the water recedes, it will be too late for crop recovery or replanting, AccuWeather.com said on June 18.
The resulting supply constraints will only add to tightness caused by surging demand in emerging economies such as China's and will translate to higher prices for such household staples as cooking oil and breakfast cereals, putting a bigger pinch on consumers' purses. Rising demand from population growth and weather-induced supply shortages aren't the only factors pushing up agricultural commodity prices. Broader acceptance of commodities as a valid asset class by large institutional investors desperately seeking to reduce risk in their portfolios is also taking its toll.
What do these developments mean for investors in agriculture-related stocks? Some industry players have enjoyed a strong runup, but valuations may have gotten ahead of themselves.
Farmers' Rising Incomes
Consumers may be paying more for food, but that doesn't spell higher profits for meat producers such as Tyson Foods (TSN) or for other food manufacturers such as Kraft Foods (KFT) that use lots of corn, wheat, and soybean oil. Their attempts to pass on higher ingredient costs to customers are being thwarted as households become more discriminating about food purchases and switch to lower-cost private-label foods.
The companies that may benefit most from the jump in crop prices are fertilizer makers such as Potash Corp. of Saskatchewan (POT) and Mosaic (MOS), as well as seed producers such as Monsanto (MON). Rising incomes for farmers have spurred these companies to start raising their prices.
"There's great demand for seed companies to perform essentially a miracle in getting seed to increase its productivity in the final harvest, but we're also going to have to put more pressure on fertilizers as we raise total acreage not only domestically but globally," says Joe Victor, vice-president for marketing at Allendale, a brokerage and commodity research advisory firm in McHenry, Ill.
Monsanto, whose cash flows have risen sharply mostly because of sales of glyphosates, a type of herbicide used to kill weeds that choke crops, will probably start to raise glyphosate prices more sporadically than the once a year it has until now, as raw material costs, tariffs, and tighter competitor discipline permit, analyst Laurence Alexander wrote in a June 5 research note for Jefferies (JEF). The prospect of higher margins from an expected hike in glyphosate prices of at least 15% in fiscal 2009 prompted him to raise his earnings estimate for 2008 by 10¢ to $3.40 a share and his 2009 estimate by 35¢ to $4.40 a share.
An Opening for GM Crops
Alexander, who has a buy rating on the stock, expects Monsanto to continue to use its cash for smaller, "bolt-on" acquisitions, speeding up its research and development pipeline, a stable dividend payout ratio, share buybacks, and investing in seed inventory in case it receives early regulatory approvals.
Monsanto also appears to be more aggressively going after market share. Licensing its Roundup Ready 2 Yield technology for soybeans to Anglo-Swiss competitor Syngenta (SYT) may help it get a jump on DuPont's (DD) Optimum Gat soybeans, whose full market launch could be delayed until 2011, analyst Mark Connelly wrote in a Credit Suisse (CS) note on May 23. (Credit Suisse does and seeks to do banking with the companies covered in its research reports.)
And while the U.S., Brazilian, and Argentine markets are fairly saturated with biotech seeds for corn and soybeans, their proven qualities of higher yields and lower reliance on fertilizers opens the door to Europe, China, India, and many other countries that have so far resisted genetically modified crops, says John Baize, president of John C. Baize & Associates, an international agricultural trading and policy consulting firm that specializes in oilseeds.
"Once you've got prices as high as you have today for agriculture products and governments are in jeopardy because of high food prices, their reluctance goes away," he says.
The 100% surtax that China imposed on all fertilizer exports from April through September has caused the market for nitrogen fertilizer to tighten much more than for phosphate plant food, analyst Edwin Chee wrote in a research note for BMO Capital Markets (BMO) on June 11. Potash Corp. is one of the few producers able to meet higher demand when other producers lack adequate supply to do so, Chee said. Every hike in potash prices of $20 per metric ton or more adds 34¢ to Potash's EPS, according to Chee, who also noted that the company's phosphoric acid sales will benefit, with prices expected to surge from $366 per metric ton in the first quarter of 2008 to $1,500 to $1,800 per metric ton in 2009, he said.
Smaller-Cap Choices
But after enormous gains over the past few months, some of these ag stocks may be a little pricey for some investors. At 141.50, Monsanto shares are trading at more than 41 times projected earnings for fiscal 2008, while Potash is valued at 21 times fiscal 2008 estimated earnings.
Smaller-cap names may be a better choice for investors, given that the prices of these stocks have been hindered by fragile and uncertain economic conditions, which typically put pressure on smaller companies with less access to capital.
Cal-Maine Foods (CALM) has been heavily shorted by investors but actually benefits from a sluggish economy that lowers consumer spending because the shell eggs it produces are a relatively cheap source of protein. The largest publicly traded U.S. egg producer, it has a roughly 16% market share in a fragmented market and has grown through acquisitions in recent years. The U.S. market accounts for more than 95% of its sales, but the export market has improved this year because of a weak dollar, says Daniel Lew, one of the managers of the $224 million SunAmerica Focused Small-Cap Value A Fund (SSSAX).
Since egg producers don't have contracts with their customers, egg prices are set on a weekly basis. "So everyone in the industry is disciplined to not overproduce," he adds. Now that the health benefits of eggs are more widely recognized and Cal-Maine's growth is no longer tied to the once-popular Atkins high-protein diet, the valuation could double from 5 to 10 times earnings, says Lew. Egg prices are up about 40% from last year.
Another carrot for investors: the company's new dividend policy, under which it pays out one-third of its quarterly earnings as dividends.
Amber Waves of Grain
In the wheat market, a series of supply disruptions—droughts in Australia, and production shortfalls in the U.S. and parts of Europe—have resulted in a more traditional supply-led bullish outlook, says Lewis Hagedorn, agricultural commodities strategist at JPMorgan Chase (JPM). Wheat prices have more than doubled in the past two years.
Two of Amit Wadhwaney's top five holdings in the $2.0 billion Third Avenue International Value Fund (TAVIX) he manages are companies that have survived droughts and are poised to gain more control of their local wheat markets, from farmers to end-customers.
Viterra (VT.TO) has the most efficient network of grain elevators in Canada, after buying Agricole United in May, 2007, says Wadhwaney, whose fund helped finance the acquisition. With its geographic reach extending beyond Saskatchewan to the neighboring provinces of Manitoba and Alberta, Viterra now handles about 45% of Canadian prairie grain shipments, he says.
Viterra's market share could grow if the government deregulates those shipments. The Canadian Wheat Board, which allocates railcars to various grain elevators based on historic market share instead of efficiency, is considering deregulating barley this year and could cede control over wheat sometime later, says Wadhwaney.
Consolidation in Australian Wheat
Growth prospects for ABB Grain FPO (ABB.AX), an Australian buyer and distributor of wheat, are less apparent, but the stock may be an even better bet than Viterra just on valuation, says Wadhwaney. Its recovery from Australia's drought has been more recent, and while there has been more rain, it's not yet clear whether the drought has completely passed, says Wadhwaney.
"You buy these companies when there's a drought. If the drought continues, the weaker competitors are going to be wiped out," he says.
Once the Australian Wheat Board loses its monopoly as a wheat exporter in July, there's potential for consolidation that will give the bigger companies more geographic reach. They'll also gain the financial clout to expand into domestic transport logistics and to deal with customers overseas. It's not clear yet whether ABB Grain will be a consolidator or will itself be bought, but Wadhwaney believes it can work either way for investors in the stock.
The argument for food conglomerates such as Archer Daniels Midland (ADM) and Bunge (BG) is a bit more complicated.
After a projected loss of 3 million acres of corn to the floods in the Midwest, supply shortages will force ADM and Bunge to pay higher prices to farmers in order to beat out competitors—from rival food companies to livestock and ethanol producers—for the crops, says Allendale's Victor.
Amid Global Economic Currents
ADM's ethanol venture, still a small part of its total business, appears to be at risk from higher corn prices. But the fact that it owns barges, railcars, and ships helps it save on transportation costs and gives it a competitive edge on pure-play ethanol producers such as Verasun Energy (VSE), says Victor. With ethanol prices tied to crude oil prices, however, a drop in oil prices would pull down ethanol revenue and reduce ADM's earnings by 6¢ a share for every $2 a barrel that oil prices were to fall, Citigroup (C) analyst David Driscoll said in a May 29 note. (Citigroup does and seeks to do business with the companies covered in its reports.)
Bunge has assets around the world, a strong cash position, and risk management operations that enable it to benefit from greater market volatility, Credit Suisse analyst Robert Moskow wrote in an April research note. Expecting further positive earnings surprises, he raised his profit forecasts to $7.50 a share for 2008 and $8.40 a share for 2009.
Deere (DE) and other farm equipment manufacturers are also benefiting from higher crop prices, as farmers use higher revenues to replace old equipment, says Victor. But Deere's profits are being squeezed on the other side by rising input costs, chiefly from higher steel prices caused by tight supply worldwide. Even as prices for their precious products soar on world markets, ag companies—and their investors—still have to navigate the tricky crosscurrents of a global economy.