Prime Minister Putin Primes the Pump
Russia's record output is slipping, and major tax cuts are on the way. But massive investment is needed
Jason Bush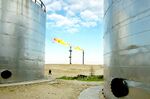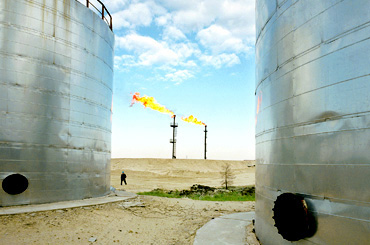 MOSCOW - On June 11, the International Energy Agency announced that Russia's oil production had hit 9.5 million barrels per day in the first quarter, edging past Saudi Arabia's 9.2 million to make the country the global King of Crude. But few in Russia are cheering because that new crown is already wobbling. After climbing for years, Russia's output has begun to drop: It was down by 0.7% in April. The problem is so serious that the new Prime Minister, former President Vladimir Putin, has said the issue is his first priority.
To get production growing again, Putin has pledged billions of dollars in tax cuts for the industry. The biggest change is a lower tax on production, which would result in an extra $4 billion in oil company coffers each year. An additional $3 billion in benefits would come from tax holidays of up to 15 years for major projects in remote regions. In late June, the Parliament is expected to approve both adjustments, which would take effect next year. Oil "was so obviously overtaxed that they had to do something," says Ronald P. Smith, head of research at Alfa-Bank in Moscow.
The question is whether the measures go far enough. Oil executives and analysts say it will be several years before the promised tax breaks lead to additional production. "We would expect to see a hiatus in growth, at the very least for the next two to three years," says David Fyfe, an analyst at the International Energy Agency in Paris. The government is considering a further $8.4 billion in tax cuts, which would take effect in 2010.
Still, it will be hard to drum up the necessary investment without participation from international oil companies, which have reasons other than taxes to be wary. Foreign investors bring cash, technology, and knowhow essential for difficult offshore projects. But there are concerns about Russia's legal environment and property rights. The tax debate comes just as BP (BP)—one of the biggest foreign investors in Russian energy—is locked in a bitter boardroom dispute with its local partners, raising broad questions about the country's investment climate. And in 2006, Royal Dutch Shell (RDS) was forced to sell off a big piece of its project in the far east to state-owned Gazprom.
INHOSPITABLE FIELDS
Although Russia implemented its current oil-tax regime just four years ago, that system was designed for an era when prices were far lower than today. The levy on production, for instance, is based on a complex formula that kicks in when oil prices reach just $9 a barrel. "Nobody seriously thought about a situation in which the price of oil would be higher than $30," says former Russian Prime Minister Yegor Gaidar.
Another big surprise has been a huge jump in demand for everything from rigs to engineers. "What everybody missed was the rapid rise in both Russian and global costs," says Christopher Weafer, chief strategist at Moscow bank Uralsib. He says oil-sector inflation is running at 25% a year, squeezing aftertax profits.
Geological limits are also behind the decline. Unlike other parts of the world, such as the North Sea or Gulf of Mexico, Russia isn't running out of oil. But most of today's production comes from mature fields in western Siberia, first developed in the 1970s and now experiencing significant declines. Growth requires massive new investment in the Arctic and in eastern Siberia, inhospitable regions where infrastructure must be built from scratch. Oil companies will have to invest $2 trillion to tap these remaining reserves, estimates Leonid Fedun, vice-president at Lukoil (LUKOY), Russia's No. 2 producer. "It's colossal money," he says.
Before it's here, it's on the Bloomberg Terminal.
LEARN MORE