Bigger Kids Want to Dress Cool, Too
Retailers have been slow to address the need for plus-sized children's clothes. Until now
Aili Mcconnon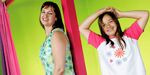 Merrill Guerra of Ypsilanti, Mich., used to despair when buying clothes for her overweight daughter Gabi, now 11. Older children's sizes that fit Gabi's torso would be too long in the pant legs and shirtsleeves, and the styles were often too sexy for a young girl. "When I talked to other girlfriends, I realized I was not alone in my frustrations," Guerra says. So she decided to form RealKidz, a plus-sized clothing company for girls ages 5 to 12. She started selling capris, leggings, and T-shirts online in May and plans to roll out a back-to-school line this August.
Guerra is tapping into one of the hottest areas of retail: fashion for overweight kids. The $6.2 billion market in plus-sized children's clothes is proving to be as lucrative as the clothing market for overweight adults. Together, sales are expected to grow 41% by 2012, according to market research firm Packaged Facts. With overall clothing sales in a funk, established brands such as Lands' End, J.C. Penney (JCP), and Old Navy are competing with a growing number of specialty retailers to expand their offerings for "plus" and "husky" junior customers.
Over the past year, Lands' End has introduced wider shoes for chubby little feet and plus sizes for all of its kids' pants. "Parents kept telling us that finding children's larger sizes was difficult, and the choices were limited," says spokeswoman Michele Casper.
While one-third of American children now are classified as overweight, retailers have been slow to adapt their designs to the more rectangular body shape and other needs of such consumers. For years the offerings were limited to a handful of items in larger sizes or features such as expandable waistbands. Then brands such as French Toast began offering a separate line of plus-sized styles in 2006. It has since expanded the sizing of its best-selling regular lines, and others have done the same. The goal, says Laura Batey, vice-president of J.C. Penney Girls, is to let every girl "fit into exactly what the girl next to her is wearing."
PROBLEMATIC TREND
Even as more companies try to cater to overweight children, though, many remain reluctant to trumpet their efforts. Old Navy offers the majority of its plus-sized options online. Retailers argue that store floors are crammed already. But analysts think some don't want to be perceived as profiting from a trend most people view as a problem. More important, perhaps, retailers may worry that clothes for chubby children aren't seen as cool. Lenda Jo Connell, a professor of consumer affairs at Alabama's Auburn University, notes that retailers think "there is more status associated with normal-sized clothing."
But clothing chains increasingly realize that larger sizes can translate to larger profits. Most mothers of heavier children say they can't find clothes that fit their offspring, according to a 2007 study by retail consultant NPD Group. One result, says Connell, is that such parents are less price-sensitive than many shoppers.
They may also be open to other approaches to the problem. Guerra intends to launch a social network for parents of overweight kids alongside the launch of her RealKidz clothing line. One goal is to swap strategies for healthy eating. Guerra's next venture: a line for skinny kids who don't fit standard sizes, either.
Before it's here, it's on the Bloomberg Terminal.
LEARN MORE